When one yuan begins, everything is renewed. On the occasion of ringing out the old year and ushering in the new, Yichang Museum, together with Suxin Qin Society and Renxiao Yaodongxiao Studio, held a Guqin concert "Seven strings passing on ancient rhyme and five tones and harmonics" in the hall of the museum on the afternoon of January 2, 2023.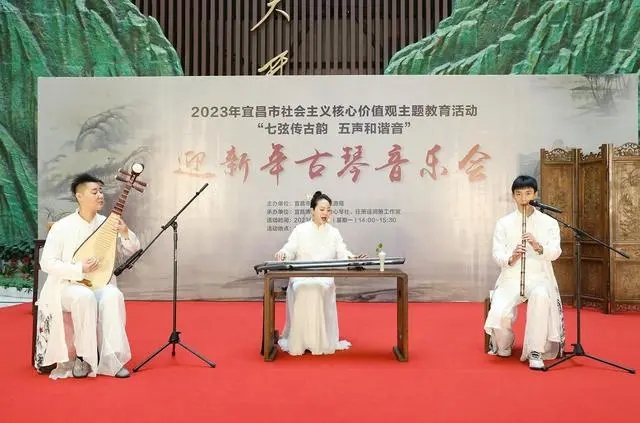 The ancients played the piano and talked about the road, Qu water flowing cup; Today people talk and laugh, Qinyun meditative. This Guqin concert adopts the combination of online and offline, based on the intangible cultural heritage heritage in the new era, combines the venue characteristics, cultural relics and folk music, and presents the melodious music in front of the majority of folk music lovers. Citizens can also experience the music feast immersed in the exhibition during holidays, resonate with the ancient music and feel the unique charm of traditional Chinese Musical Instruments.
The music is curled and the flute is soft. The beautiful and beautiful music leads you into the wonderful world of music, conveying the citizens' love for national music, the blessing of the great motherland, the praise of a better life, and the expectations for the Year of the Rabbit.
The audience said one after another that they were "attracted by the melodious music of the piano and Xiao. They were not only satisfied with their eyes, but also satisfied with their ears. They listened to the explanation on the spot, enjoyed a crossover interpretation of audio-visual integration, and felt the festive atmosphere of the museum".
"Let cultural relics' speak 'and history' speak '. In the future, Yichang Museum will, as always, be committed to carrying forward the excellent traditional culture, cultivating the feelings of home and country, and enriching citizens' holiday entertainment life with more popular activities.