On the morning of January 1st, the closing exhibition of the National Art Fund talent training funding project "Training of Traditional Guqin Mojo skills and scientific and technological innovation Talents", chaired by Dr. Gu Yongjie of Zhoukou Normal University, was carried out in the fourth floor exhibition hall of Zhoukou Museum. The opening ceremony of the exhibition was broadcasted live and online by Daxiang News, and nearly 5,000 people watched it online in real time.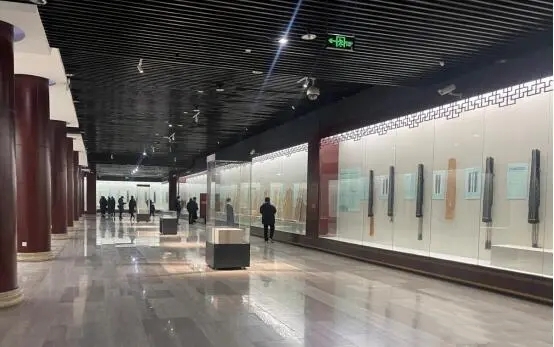 The exhibition with the theme of "Master Qin Master Heart -- Traditional Guqin Master Technique Exhibition", is sponsored by National Art Fund Management Center, Zhoukou Normal University, School of Marxism of Zhoukou Normal University, Zhoukou Culture, Radio, Film and Tourism Bureau, Zhoukou Social Science Association, co-organized by Zhoukou Museum, Zhoukou Intangible Cultural Heritage Protection Center. During the event, a number of Guqin experts and students gathered together to witness this magnificent event with Guqin as friends.
"Traditional Guqin Moq technique technology innovation talent training" closing exhibition fully shows the strength of Zhoukou Normal University successfully implemented the National art fund project, but also Zhoukou Normal University in recent years to pay attention to science and education, accelerate the inheritance and innovation of the development of Chinese excellent traditional culture.
From theme design to space layout, the exhibition systematically displays the skills of traditional guqin mojo. It is divided into two parts: "traditional Guqin Mojo skills" and "project results". There are ten units such as "process", "Guqin mojo materials" and "Guqin mojo tools". The exhibits are complete and rich in content.
After the opening ceremony held the project closing seminar, we affirmed the training results, and the development of Guqin mojo system and the future, how to let the intangible heritage traditional guqin skills based on the modern information design era and other issues were deeply discussed. Before the opening ceremony, a closing guqin concert titled "Training of Traditional Guqin Mojo Skills and Scientific and Technological Innovation Talents" was held. This activity will be extended until January 7.