Autumn Breeze to National Style Immersive Concert Ye Ming Erhu Live Performing Classic Folk Music
64 views · Organized by 茯苓 on 2022-09-20
On September 16, Langyuan Station was first established in Beijing's new punch-in place. At the opening ceremony of the 11th Langyuan International Creative and Cultural Festival, the first Langyuan released content revealing that the second phase of Langyuan Station Central Station consists of a large open indoor space covering an area of 7,000 square meters and a complex cultural and commercial space of 20,000 square meters. It will continue the international trend positioning of Langyuan Station, adhere to cultural characteristics, and plan to introduce international design buyer stores, trend originals, brand specialty stores, OMO business, curatorial art space and other formats, and continue to drive the depth of trend culture and new consumption scenarios. fusion.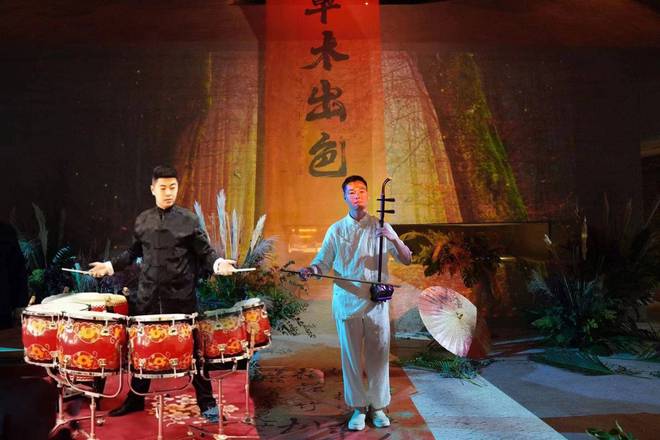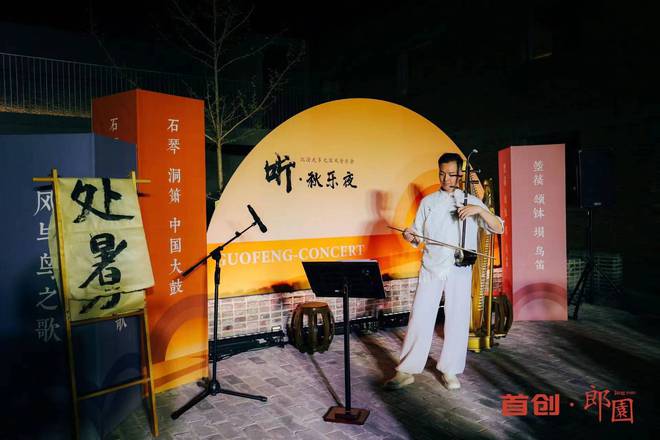 This time, the cultural festival also held an immersive concert from autumn to national style, which made the audience linger. Erhu actor Ye Ming not only played the erhu classic "Good Night", but also used the erhu and Chinese drum player Xiang Siyi for the first time to complete the theme song of the concert "The Praise of Autumn" and successively used Sheng, Guan, Flute and Xiao. The konghou, bowl and other musical instruments took turns to play, bringing a beautiful musical feast to the sausage audience. The theme event will plan cultural experience scenes around the four seasons and the 24 solar terms, integrate traditional Chinese festivals, focus on cultural experience scenes, integrate traditional Chinese handicraft skills with humanities to show the aesthetics of oriental life, and enable new consumer demands to be activated in beautiful and elegant traditional cultural scenes.
Involving musical instruments
Erhu (Pinyin: Erhu) originated in the Tang Dynasty, called "Xiqin", and has a history of more than a thousand years. It is a traditional Chinese stringed instrument. Erhu, or Erxian Huqin, also known as "Nanhu" and "Omzi", is one of the main bowed and stringed instruments (wiping strings) in the Chinese national musical instrument family.
Guess you like
Organized by 阿蘅 on 2022-12-08
Recently, the Ruyi Erhu Concert (in commemoration of Min Hui-fen's birthday Series) was staged in the concert Hall of Shanghai Oriental Arts Center.
read >>
Organized by 袁城 on 2022-12-06
Yao Jiannan, graduated from Zhejiang Normal University in 2015, is now a music teacher of Huzhou Xinfeng Experimental Primary School Education Group. "The school has been exploring the road of 'education for prosperity together'. Since the establishment of the Teaching Community with multiple units in 2019, we have conducted more than 100 synchronized classes." Yao Jiannan told reporters: "This is for rural schools to send education activities, I am very honored to teach for Shangqiang primary school students."
read >>
Organized by 长乐 on 2022-12-02
This year marks the 90th anniversary of the death of Liu Tianhua, a master of Chinese music. "National music and western music keep abreast" has always been Liu Tianhua's ideal and goal. He proposed and explored such ideals as "music should be rooted in Chinese traditional culture and folk music".
read >>
Organized by 九曲 on 2022-11-29
Since 2018, the elderly who like erhu in Qianxi City have gathered at Liancheng Street Cultural Service Center every weekend
read >>
Organized by 梦昱 on 2022-11-25
On November 22, when the reporter was interviewing in Guandi Temple Village, Shuitun Town, Yicheng District, he was attracted by the melodious sound of erhu. He heard the sound and saw an old man sitting in his yard, leisurely pulling the erhu.
read >>