On the evening of August 12th, the "Most Beautiful Time - Zhao Cong and Her Friends' Pipa Concert" was performed at Chongqing Grand Theater. Famous pipa performer and head of the Central Ethnic Orchestra, Zhao Cong, joined forces with renowned pianist Liu Xingchen and four outstanding young string performers from the "Rubik's Cube Ensemble" to bring a music feast that combines Chinese and Western elements to the audience.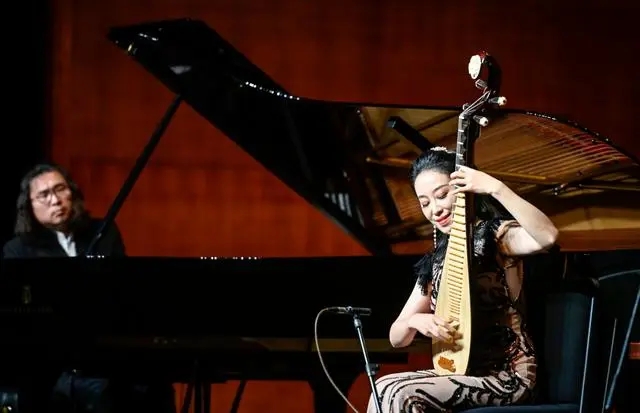 As an outstanding representative of Chinese musicians, Zhao Cong enjoys a high reputation in the international classical music world. At this concert, she used her superb pipa performance to "collide" with contemporary world music vocabulary, allowing "classical beauty" to encounter "fashion style".
At the performance site, more than ten classic songs that blend Chinese and Western music were staged in turns, showcasing the unique charm of the integration and innovation of Chinese and Western music. The newly arranged classical masterpiece "Spring River Flower Moonlight Night" highlights the unique charm of the pipa against the backdrop of the piano; The "Rose Tango" has become rich and layered due to the addition of different musical instruments' timbre and rhythm; The musical song 'Red Flag Rises' enhances the musical expression of the pipa with its passionate singing
It is worth mentioning that when "Flying on the Silk Road", which won the first National Art Foundation Award, resounded through the theater, the strings of the pipa sometimes flowed in the air, as delicate and graceful as water; At times, it is powerful and passionate, like a golden iron horse, complementing the powerful performance of the piano, forming a grand momentum, creating a mysterious and exciting historical illusion, as if leading the audience back to the Mogao Grottoes a thousand years ago... Finally, the music ends with a resounding chord, leaving a beautiful melody echoing in the audience's hearts.
The scene was so 'lively'! It was full of youthful vitality! "Huang Lin, a university student from Yuzhong District, told reporters after the performance." When different instruments were played together, it was like 'exchanging and learning', showcasing a new style and artistic conception
The collision between different art genres can create infinite possibilities, "Zhao Cong said, hoping to break the boundaries of traditional music, allowing the pipa to inherit the essence of tradition while absorbing the nutrients of global music culture, thus forming a unique and diverse music style, and giving new vitality and vitality to traditional folk music in modern society.