Fingers tremble slightly, and the string sounds slowly. Rotate the shaft to pluck the string, gently fold it and slowly twist it.
March 19th
Opening ceremony of youth research and learning exchange activities in Zhejiang and Sichuan
Held at Chengdu Tianfu International Airport
Teenagers from the Children's National Plunging Orchestra of our city
Performed the classical folk music "Colored Clouds Chasing the Moon" in a flash format on site
Play a prelude for research and learning exchange activities
And sing "The Red Flag Flies" with the campers
The flash show has a melodious and joyful melody
Win warm applause from the crowd on the spot
The research and learning exchange activities for young people in Zhejiang and Sichuan are jointly carried out by the Zhejiang Provincial Working Group in Sichuan, the Communist Youth League Sichuan Provincial Committee, the Communist Youth League Zhejiang Provincial Committee, the Zhejiang Radio and Television Group, and the Sichuan Young Pioneers Working Committee. 200 young people from Aba, Ganzi, Liangshan, Mianyang, Guangyuan, Leshan, Bazhong, and other counties (cities, districts) in eastern and western Zhejiang will participate in the research and learning exchange, The children will participate in various practical activities in various places in Zhejiang Province, pursue the footprints of revolutionary ancestors, learn the "Red Boat Spirit", explore the origin of Chinese civilization, and see the achievements of motherland construction with heart and eyes.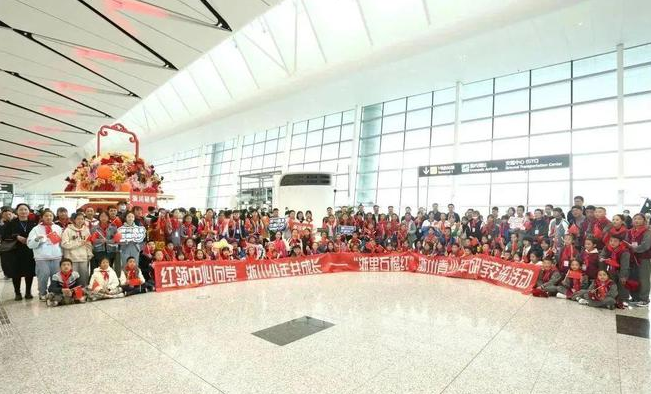 More than 30 young performers participating in the live performance came from the Jianyang Children's National Piano Orchestra. The orchestra was established in April 2022 and currently has over 140 members. Since its establishment, the orchestra has made a lot of exploration and innovation in the training of young people's ethnic musical instrument performance, band organization, music performance, and other aspects based on the unique timbre and performance form of ethnic musical instruments. With the continuous expansion of influence, more and more young enthusiasts join the orchestra to participate in the study, performance, and promotion of national music, and traditional national culture is further inherited and promoted at their fingertips.