Who is the "blind minister", "the teacher Kuang Zhicong", who can be called "sub-sage" by Mencius? Come and meet this legendary famous musician in the Spring and Autumn Period!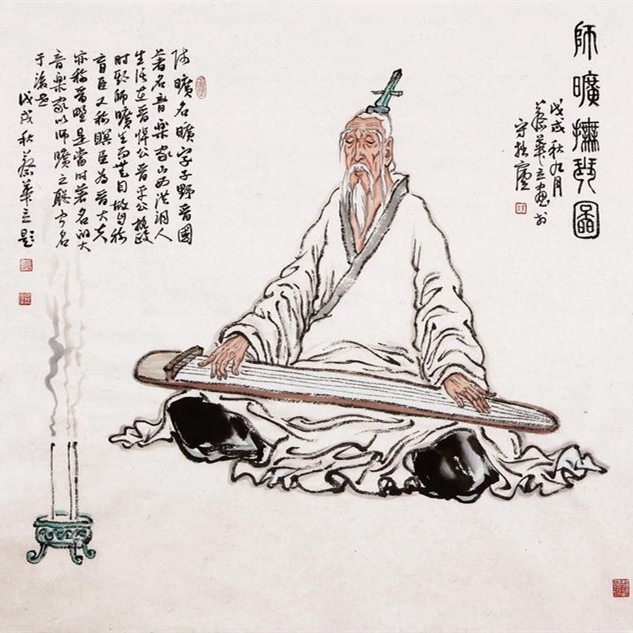 First of all, Shi Kuang's teacher is not his surname. Like Shixiang and Shi Juan, "shi" represents the position of music official.
Secondly, Shi Kuang is still blind, and why is he blind? There are two legends. One is that he was born blind; the other is that he deliberately blinded his eyes with wormwood in order to concentrate on pursuing the highest realm of music. temperament. No matter which of these two statements is correct, it is undeniable that he is a successful blind music master, and the famous qin pieces "Yangchun" and "White Snow" are all composed by him.
In addition, the founder of ancient Taijiquan, who first proposed "the people are noble and the king is light", and was revered as the fortune-teller for his good divination and deduction. Even the "Gu Chuan Tai" in Kaifeng Yuwangtai Park, one of the only two piano platforms left in my country, was built when he played in Kaifeng.
Shi Kuang collided with Jin Pinggong
Duke Ping of Jin and his ministers drank, and after drinking, he sighed and said, "Mo Le is a human king! Only what he said should not be contrary to his words." The public was shunned, and the qin was broken on the wall. The Duke said, "Who is the Grand Master?" Shi Kuang said, "Now there are villains talking to the side, so I bumped into them." The Duke said, "It's only a few people." Say it." Please get rid of it. The Duke said, "Release it, and think it is a precept for the few."
translation
Although Shi Kuang has become a Dazai, he still plays the piano from time to time.
One day, Duke Ping of Jin held a banquet for the ministers. After drinking a little wine, he sighed with emotion: "I am afraid there is nothing happier than being a monarch. No one dares to go against his will."
The ministers here are still busy echoing, and Shi Kuang, who was playing the qin over there, stopped playing the qin, suddenly stood up, hugged the qin and headed towards the direction of Duke Jin Ping's words, and bumped his head over. Duke Ping hurriedly put away his coat to hide, but the piano was smashed against the wall.
Duke Wen of Jin asked in surprise: "Who is Aiqing going to hit?" Shi Kuang replied, "There was a villain who was talking nonsense just now, so I'm going to hit him."
Duke Ping hurriedly said that he was speaking, while Shi Kuang said in surprise, "This is not what a monarch should say!"
The valet thought it was disrespectful and demanded that he be punished.
Jin Ping was arrogant, but not foolish. He also realized that he had made a slip of the tongue, so he waved his hand and let Shi Kuang go, which will be used as a lesson in the future.
Shi Kuang is not only proficient in music theory, but also has an upright character that is not afraid of power. He can walk the right way and dare to persuade. He is worthy of being called a music saint by the ancients.
Shi Kuang's Cong: Shi Kuang has such a smart ear. People often express their sensitivity to music with "the wisdom of the teacher".