Each country has its own unique music and knowledge, passing the country's aesthetic and wisdom!
On February 26, a melodious Erhu concert delivered the charm of Chinese traditional music at the First Primary School in Donghedian Town, Pingyu County, Zhumadian City. The Erhu Education and Teaching Base designated by Zhumadian Musicians Association was officially inaugurated here.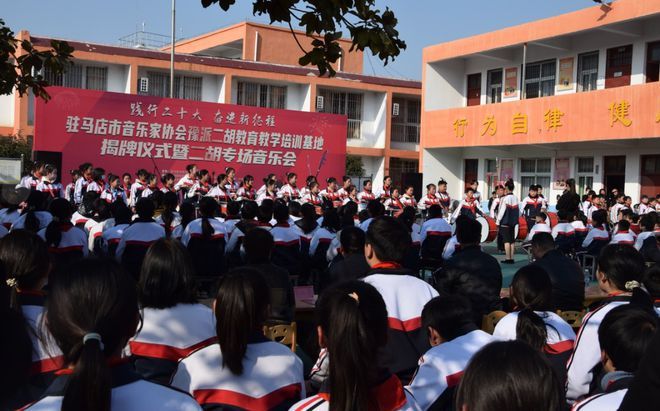 It is reported that this activity is sponsored by Zhumadian Musicians Association, Party Committee government of Donghedian Town of Pingyu County, Donghedian Town First Primary School of Pingyu County.
Li Wenhui, former member of the Standing Committee of Henan Provincial Party Committee and former deputy director of the Party Group of Henan Provincial People's Congress, and Guo Min, a famous Erhu player, inaugurated the school. Li Wenhui pointed out that after the completion of the Erhu base, it is necessary to implement and improve the standards and set the specific learning content of each stage, so that children and parents can clearly see the goal and progress.
Li Songyong, Director of Pingyu County Education Bureau, Zheng Yi, Secretary of the Party Committee of Donghedian Town, Pingyu County, and Wei Chunhua, mayor, attended the unveiling ceremony. Li Songyong said that Henan Province's only "Henan Erhu education, teaching and training base" is located in a smooth place. We should cherish it and continue to work hard to carry forward our traditional culture and let the seeds of Erhu take root, spread branches and scatter leaves in our county.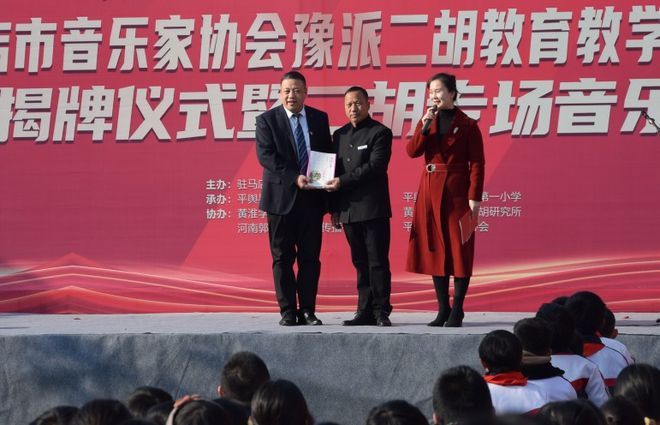 At the concert, Wang Quanmin, vice president of Zhengzhou Erqi District Charity Federation, president of Henan Branch of China Ten German Studies Culture Research Institute and chairman of Zhengzhou Quanmin Pension Service Co., Ltd. presented the Chinese Studies Education Series to the school. Let Guoxin and sinology accompany the children!
"Guoxue and Guoxue have had a great influence on my life," Wang said. In addition to the gift of traditional Chinese studies books, to convey the care of children's hearts, I also want to share my love for Erhu, I am a learner of Erhu, this kind of music expression is very unique, inclusive and open, can accept everything, euphemism, tenderness, implicit sweet, is really very charming!"
At the concert, Erhu players Guo Min, Zhou Zhou, Huang Yingqun, Lu Hui, Li Mingjie, Jet Wang, etc., brought a musical feast for everyone. There is also a 5-year-old child Wang Zirui brought "Little Star", "Little Bunny Boy" and other erhu ensemble, triggering the audience interaction.
Guo Min performed solo in Henan Township. As a national first-class performer, distinguished professor of Huanghuai University and honorary director of the Yale Erhu Research Institute of Huanghuai University, Guo Min expressed the cheerful, humorous and optimistic mental outlook and local customs of Henan people with his music.
The young and talented representative of the Erhu, Zhou Zhou (director of the Yale Institute of Erhu Studies at Huanghuai University), performed the Lone Brave solo, expressing the ordinary and harmonious dream...
In addition, Jet Wang (principal of the First Primary School in Donghedian Town, Pingyu County) played the song "Shepherd Song", Li Minghua (vice president of Xincai Musicians Association) played the "Royal Reek Song" on guitar, and several players played together, which conveyed the beauty of traditional Chinese music, rich sound effect and wonderful timbre, and reverberated in the campus for a long time!
The true, the good and the beautiful in life always give people inspiration, all art has emotional feelings, only music and books to express the most direct, the most intense! Beautiful music can make people relax, return to the realm of nature...