In order to inherit and carry forward the intangible cultural heritage, fully stimulate the vitality of the intangible cultural heritage, enrich the spiritual and cultural life of the masses, and create a happy, peaceful, harmonious and civilized festival atmosphere, on the eve of the Lantern Festival, the special lecture "There is No Ancient and Present -- Intangible Cultural Heritage Welcoming the New Year Guqin Culture" was held by Zhoukou Culture, Radio, Television and Tourism Bureau and undertook by Zhoukou Intangible Cultural Heritage Protection Center. To reproduce the historic scene of Guqin buried deep in the long river of Chinese civilization.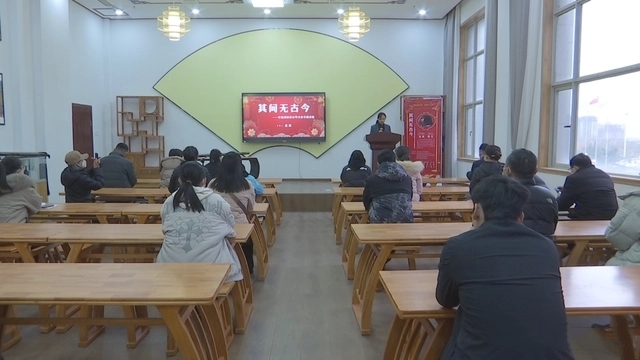 During the activity, Gao Yang, specially invited teacher of Music and Dance College of Zhoukou Normal University and president of Zhoukou Guqin Cultural Research Institute, gave a combination of special lecture and live performance. From the origin of the guqin, music score, schools to the fingering, significance and value of the guqin, he explained deeply and simply. During this period, the teacher explained, While playing "Autumn Wind Ci", "Shen Ren Chang", "Wolong Yin" and other pieces, fully display the charm of guqin art.
Han Ruilin, a child, said, "I like Guqin very much. I have been learning Guqin for nearly two years. Today's activity has benefited me a lot.
It is reported that the Guqin, a traditional Chinese plucked string instrument, has a history of more than 3,000 years. It has a wide range, deep tone and long aftersound. In 2003, the art of Guqin was included in the Representative List of the Oral and Intangible Cultural Heritage of Humanity by UNESCO. In 2006, Guqin art was included in the first batch of national intangible cultural heritage list.
"The purpose of this Guqin activity is to encourage more people to come to Guqin, listen to Guqin, feel Guqin, promote the inheritance and development of Guqin art, and promote the excellent traditional Chinese culture." Zhoukou Guqin Culture Research Institute president Gao Yang said.