On January 12, at the release ceremony of the "Hunan Good People List" in the second half of 2022 and the on-site exchange activity of "China Good People" and "Hunan Good People" held in Liling, Zhuzhou, Li Shuyou, the old man who created the folk music version of "Spring of Cattle Herding Class", was popular with the public.
Li Shuyou, 78 years old, is a performer who can play more than ten kinds of national instruments. He gave up the comfortable life in the city and returned to his hometown. It took seven years to teach ethnic musical instruments for left-behind children free of charge, and let rural children feel the beauty of music.
The 78-year-old built a music classroom at his own expense and taught folk music for free
Since the winter holiday, an old street in Jiantouzhou Village, Dongfu Town, Liling, Zhuzhou, has heard melodious music every day. The sound comes from a private house called "Shuyou Lefang". A group of children played classic music such as "Liuyang River" and "Red Star Takes Me to Fight". The old man who directed them to play with different instruments was Li Shuyou.
The 77-year-old Li Shuyou loved ethnic musical instruments such as erhu and bamboo flute since childhood. In the sixties and seventies of the last century, he worked in the army literary and artistic troupe, and was sent to the Sichuan Conservatory of Music for further study on such instruments as the three-stringed instrument and the Liuqin instrument. Before retirement, he also served as the head of Liling Huagu Opera Troupe. It can be said that Li Shuyou has dealt with folk music all his life.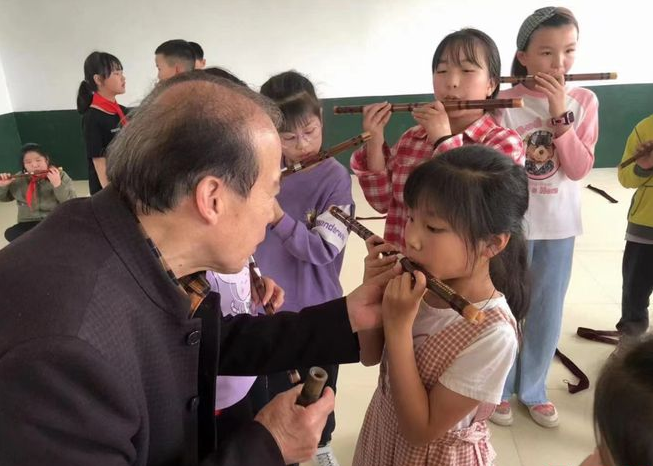 At the end of 2014, Li Shuyou retired and returned to his hometown. I found that many left-behind children in the village were addicted to online games because of neglect of discipline, so I wanted to guide them to find the right hobbies. So he bought folk musical instruments from his own pocket, transformed his old house into a "music classroom", and taught ethnic musical instruments for left-behind children free of charge. "Take these children well, and their parents can work at ease."
In the face of a few people's doubts about his free teaching, Li Shuyou did not retreat. In the summer vacation of 2015, his "Music Classroom" began to recruit students for teaching.
In 2007, he brought more than 200 "apprentices", and some of them were admitted to the Conservatory of Music
The foundation of music is weak. In order to improve the children's interest in learning, Li Shuyou has been tireless in on-site guidance while racking his brains to find teaching methods.
In terms of music selection, Li Shuyou will choose some familiar children's songs and some popular music scores to let children learn, which will greatly improve their interest in learning. Under the patient guidance of his hands, the children who initially read do, re, mi, fa and sol in the notation as 12345 gradually learned to play a complete piece of music. "None of the children who come to study here give up halfway," Li Shuyou said with a smile.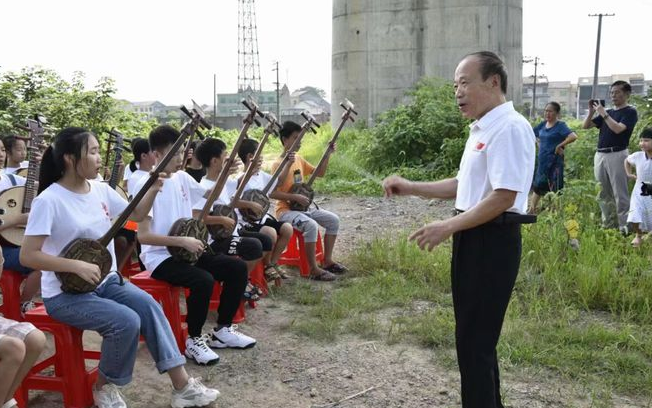 Most young and middle-aged people in Jiantouzhou Village go out to work, and there are nearly 500 left-behind children raised by grandparents. The entertainment facilities in rural areas are limited. Parents are worried about children playing with mobile phones and paddling in the wild during the winter and summer holidays. Now there are music classes in the village, and children are willing to spend their holidays here. Deng Jilin, a villager, put his grandson and granddaughter at Li Shuyou's home to study folk music. "This is the most reassuring place."
In just a few years, children's instrumental music level has been significantly improved. In 2019, Li Shuyou gathered more than 30 rural children without folk music foundation to form a children's national orchestra capable of playing more than ten kinds of national instruments. Today, the orchestra has grown to more than 90 people and has a small local reputation.
In the past seven years, Li Shuyou has brought more than 200 "apprentices", some of whom learned to read music and play various musical instruments under his training; Some of them entered the conservatory of music and engaged in music-related careers after graduation; There are more children who have won awards in talent competitions.
When the retired elderly met the left-behind children of the "bow tribe", netizens praised and said that this was the spring of the Chinese version of "cattle herding class".
"I will stick to it until I can't teach." Li Shuyou said that music changes life and education achieves dreams. He called on more musicians to join the children's national orchestra to build a rural cultural and artistic front and serve rural children.