Horse Racing (Guzheng)(guzheng sheet music)
Organized by 阿轺 on 2022-09-24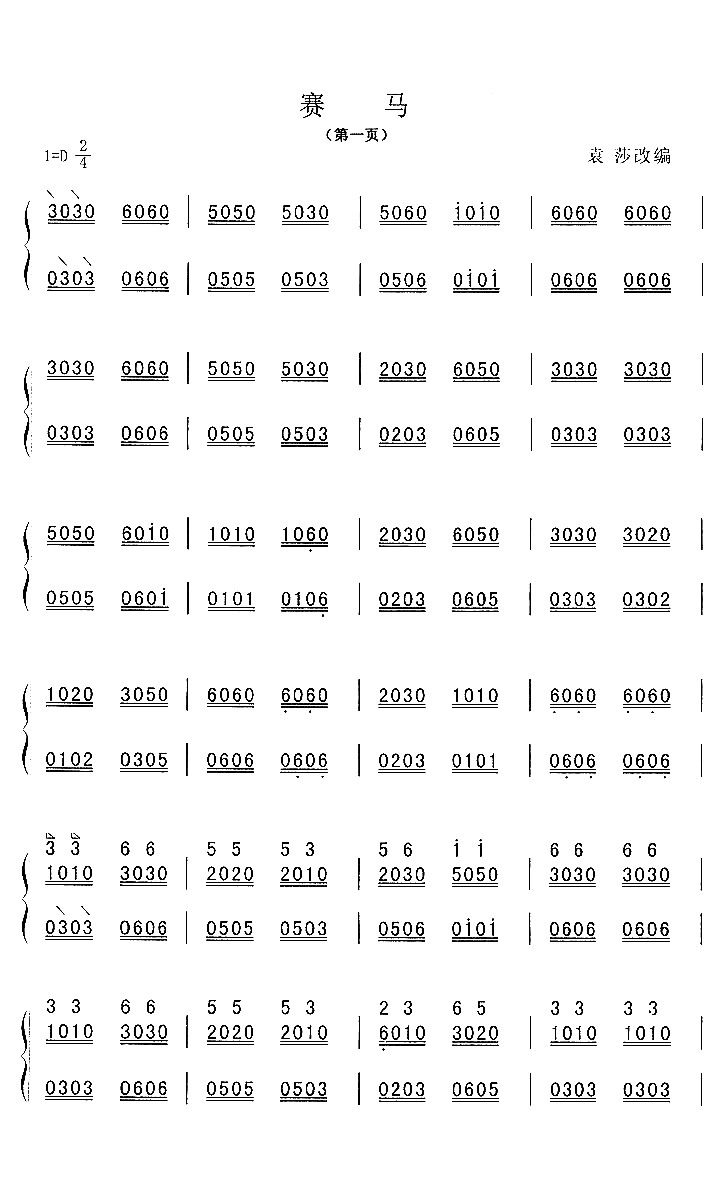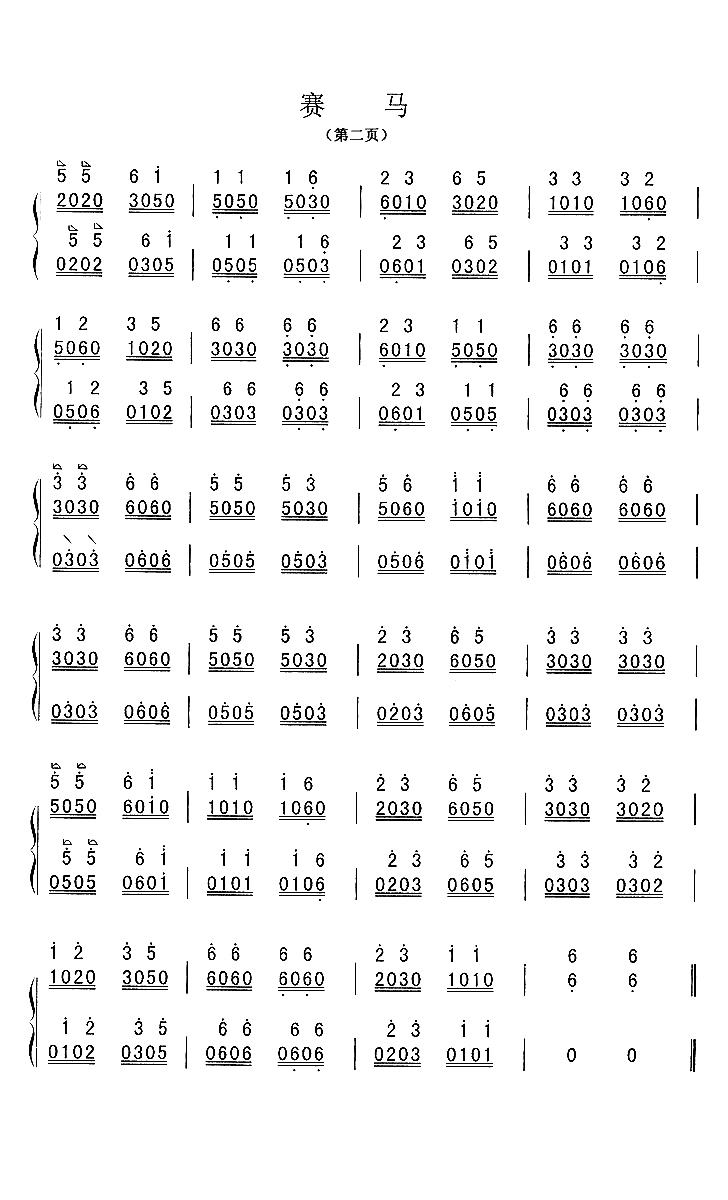 Horse Racing (Guzheng) is organized by 阿轺 on 2022-09-24,You can use Guzheng to play; Through the music score provided by us, you will be able to master it skillfully and become a member of everyone.
The music is deeply loved by people for its majestic momentum, warm atmosphere and unrestrained melody. The musical structure of "Horse Racing" is a trilogy composed of a single theme and its derivatives. The middle part, the second part, is the original folk song, and the first and third parts are the derivatives of the original folk song.
Involving the artist
Yuan Sha, a Chinese guzheng performing artist, has funded and trained dozens of disabled and impoverished students over the years, enabling them to embark on the road of guzheng art and become self-reliant, cultivate nearly 2,000 guzheng education talents, and hold special guzheng music performances at home and abroad. Nearly 200 conferences and lectures have been held, and dozens of textbooks and CD-ROMs have been published, which has made great contributions to the promotion and popularization of guzheng art.
read >>
Involving musical instruments
Guzheng (pinyin: Gǔ Zhēng), also known as Hanzheng and Qinzheng, is an ancient national musical instrument of the Han nationality and is popular all over China. It is often used for solo, duet, instrumental ensemble and accompaniment of song and dance, opera and folk art. Because of its wide range, beautiful timbre, rich playing skills and strong expressiveness, it is known as the "King of Music", also known as "Oriental Piano", and is one of the unique and important national musical instruments in China.
News
Organized by 青鸟 on 2022-11-30
A light blue dress is elegant and plain. In a folk house in Chinatown, Florida, the United States, a woman who looks like Princess Yang was playing a zither, and her hands fell gently, like big pearls rolling down a jade plate. The sound was heard by the ears and never stopped.
read >>
Organized by 辞惘 on 2022-11-29
Comprehensively improve the production and performance skills of ethnic musical instrument merchants in Juyang Town, Lankao County, promote the inheritance and development of ethnic musical instrument culture, drive the national musical instrument industry to become bigger and stronger, and realize the in-depth inheritance of ethnic musical instrument culture in the spiritual highland.
read >>
Organized by Susan on 2022-11-28
Recently, China Merchants International Conference Room held Guzheng experience activities for Chinese and foreign residents, inviting professional orchestras to perform live, showing excellent classical Chinese music culture for Chinese and foreign residents.
read >>
Organized by 某某 on 2022-11-28
On November 27, Chang Jing, a renowned guzheng player known as the "fairy of the Guzheng", and Zhang Di, a dizi player and member of the Fairy music troupe, visited the Daiguan (Liangzhu Culture and Art Center) and replayed the painting of the Book of Songs with music as paper and sound as ink.
read >>
Organized by 花昼 on 2022-11-23
Recently, sponsored by Wuhan Jingcai Cultural Communication Co., LTD., co-organized by Shanghai Folk Musical Instrument Factory Co., LTD., and guided by Hubei Folk Orchestral Society and Hubei Musicians Association Guzheng Society, the Dunhuang Guyue 2022 Chutian Zheng Star Series Exhibition activities were successfully held in Wuhan.
read >>
Guess you like