Reed wood flower (Guzheng)(guzheng sheet music)
Organized by 晚荣 on 2023-11-19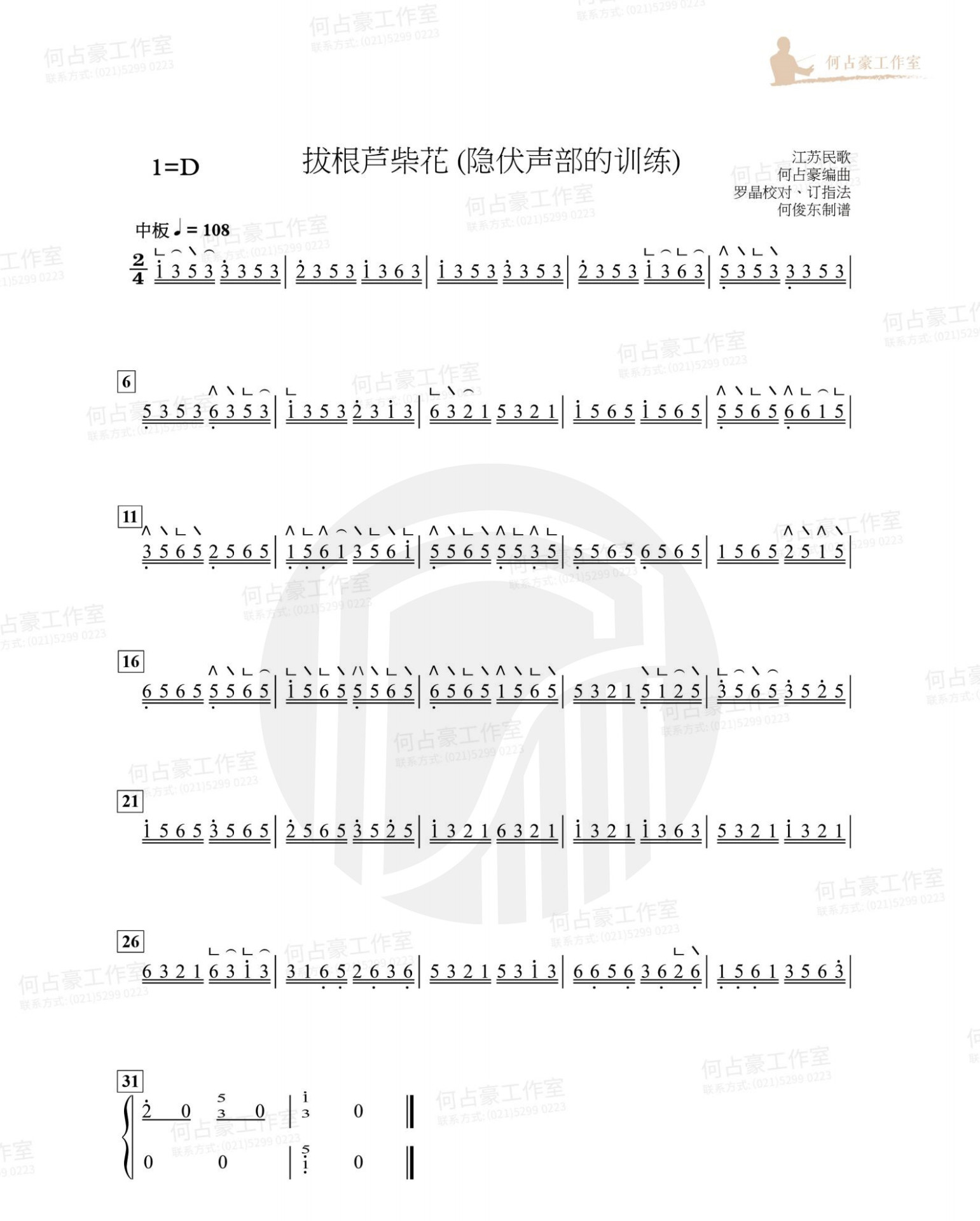 Reed wood flower (Guzheng) is organized by 晚荣 on 2023-11-19,You can use Guzheng to play; Through the music score provided by us, you will be able to master it skillfully and become a member of everyone.
Based on the folk songs of Yangzhou, Jiangsu Province, with "flowers", it mixes euphemism in the high-spirited tone, blends the characteristics of labor songs and lyrical folk songs, and is filled with a bright and happy atmosphere. Adapted to zither technique ditty, the player is required to have a steady force, a balanced speed, highlight the first tone head, and make the melody clear.
Involving the artist
He Zhanhao is an outstanding Chinese musician and a world-renowned composer. He is currently a professor at the Shanghai Conservatory of Music, China, and vice-chairman of the China Shanghai Musicians Association.
read >>
Involving musical instruments
Guzheng (pinyin: Gǔ Zhēng), also known as Hanzheng and Qinzheng, is an ancient national musical instrument of the Han nationality and is popular all over China. It is often used for solo, duet, instrumental ensemble and accompaniment of song and dance, opera and folk art. Because of its wide range, beautiful timbre, rich playing skills and strong expressiveness, it is known as the "King of Music", also known as "Oriental Piano", and is one of the unique and important national musical instruments in China.
News
Organized by 年糕 on 2023-09-27
In the first chapter of the performance section of the 19th Asian Games opening ceremony in Hangzhou, "National Style and Elegant Charm", a kite song "Misty Rain Dyed Jiangnan", which contains distinctive elements of Zhejiang local drama - Yue opera, brings people into the landscape artistic conception and humanistic painting of Jiangnan. Let the audience, especially the audience from Jiangsu and Zhejiang, immerse themselves in it and be filled with emotion. The solo performance was performed by Yuan Sha, professor and doctoral supervisor of the Central Conservatory of Music.
read >>
Organized by 钟离 on 2023-08-10
On August 6, Wang Xiaochen's special guzheng symphony concert was successfully staged in Shandong Provincial Grand Theatre. The concert was organized by Shandong Performance Co., LTD., Shandong Zhongyan Culture Communication Co., LTD., and China Oriental Symphony Orchestra was specially invited to perform together.
read >>
Organized by 雨童 on 2023-07-11
A few days ago, a series of lectures on music popularization with the theme of "Great American · Who and 'Zheng' singing" were held in the small rehearsal hall of China Film Orchestra in Beitaipingzhuang Street. The lecture was designed to broaden the aesthetic vision of residents of the district and promote the prosperity and development of regional cultural undertakings, attracting more than 60 residents of the district to attend.
read >>
Organized by 弥光 on 2023-06-19
Summer nights are drizzly, but they cannot stop the footsteps of "Zheng fans". Recently, "Zheng Path" Wang Zhongshan Guzheng Concert was staged in the Grand Theater of Suzhou Culture and Arts Centre, attracting many audiences in Suzhou. Chaozhou string poetry, Hakka music, Henan Zheng music... The sound of strings and strings is heard, and a grand art feast of zither was staged by the Jinji Lake.
read >>
Organized by 汤圆 on 2023-05-05
On May 5, Universal Music (China) announced the official release of guzheng player Yuan Sha's solo album Water Lotus, which is also the first album of traditional Chinese music released by Universal Music (China) this year. This album inherits the aesthetic spirit of Chinese culture, chooses to record in nature in front of the Great Wall and Juyong Pass, restores the beautiful artistic conception of the scene, interprets the feeling of the unity of heaven and man with Guzheng.
read >>
Guess you like