Lonely brave(hulusi sheet music)
Organized by 阿蘅 on 2022-05-17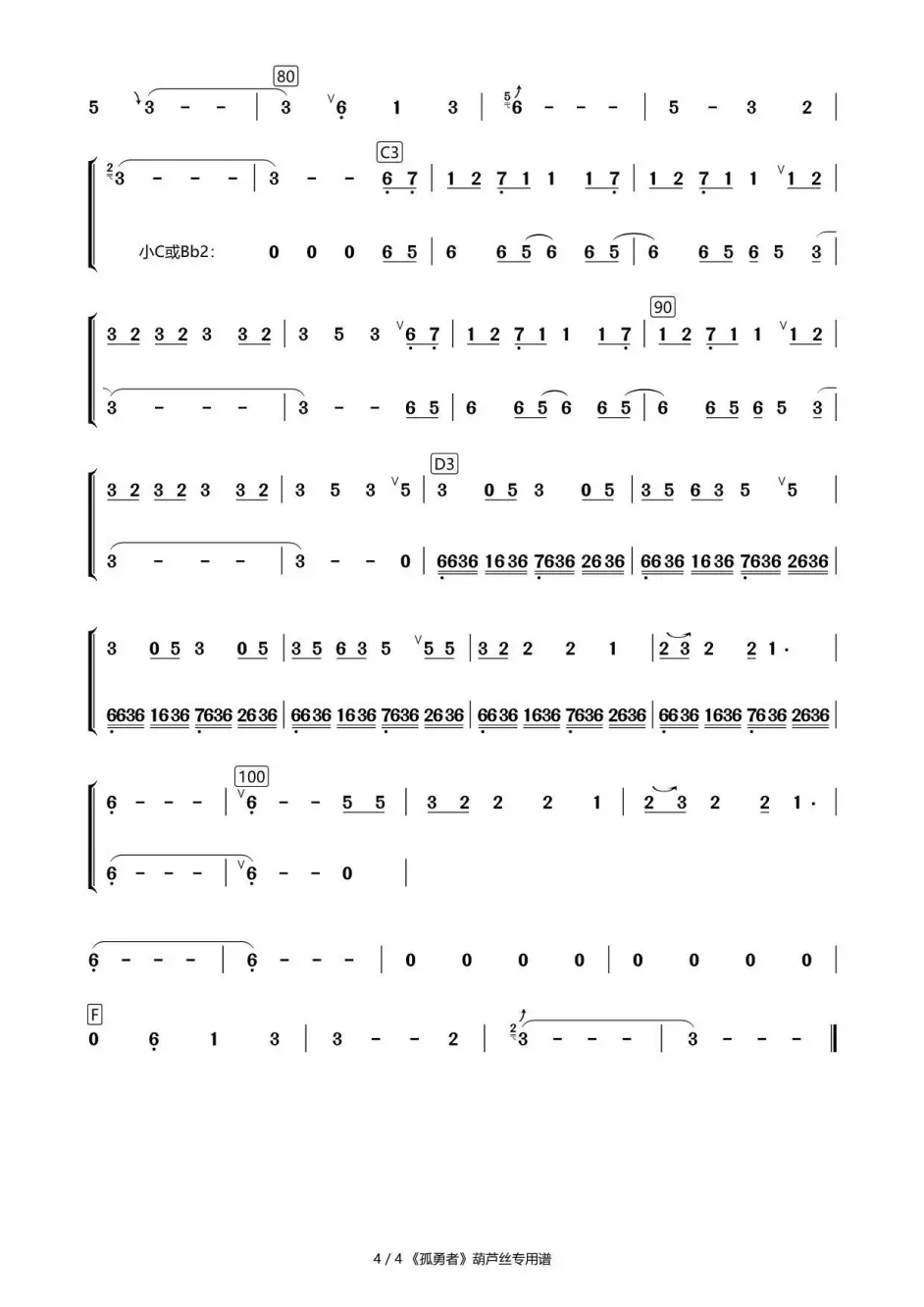 Lonely brave is organized by 阿蘅 on 2022-05-17,You can use hulusi to play; Through the music score provided by us, you will be able to master it skillfully and become a member of everyone.
"The Lonely Brave" is the Chinese theme song of the game "League of Legends" derivative animation "League of Legends: Battle of the Two Cities". It was written by Tang Tian, composed by Qian Lei and sung by Eason Chan. It will be released as a single on November 8, 2021. release.
Involving musical instruments
Hulusi (pinyin: hú lu sī), also known as "calabash flute", is a musical instrument of ethnic minorities in Yunnan. Hulusi originated in Lianghe County, Dehong Dai and Jingpo Autonomous Prefecture, and is mainly popular in Dai, Achang, Wa, De'ang and Brown. The Dehong and Lincang areas in Yunnan where ethnic groups live together are rich in local colors.
News
Organized by 棠舟 on 2023-03-14
On the morning of March 11, the music was melodious and melodic in the cultural hall of Yantai Huanghai and Bohai New Area, and the Hulusi Art Salon, "Long and beautiful, touching my heart", was successfully held in the vocal music classroom on the second floor. Enthusiastic art lovers express their love for a better life by playing cucurbit flute and feel the unique charm of music class.
read >>
Organized by 晚荣 on 2023-02-24
Solo, ensemble, ensemble... Recently, there was a melodious sound of Hulusi and bursts of applause in the Xin Space of Caohejing Street. A meeting between Hulusi fans and "idols" was in progress.
read >>
Organized by 晚荣 on 2022-12-16
On December 11th, the hulusi training activity sponsored by the Publicity Department of Yiwu Municipal Committee and co-organized by Chengxi Street Cultural Hall was held in the Xiayan Village Cultural Hall of Chengxi Street.
read >>
Organized by 汾酒 on 2022-12-08
Ni Kaihong, member of the Third Youth Federation of Dehong Prefecture, examiner of Social Art Level Examination of Yunnan Arts University, President of Hulusi Association of Lianghe County.
read >>
Organized by 象牙山首富 on 2022-12-07
Recently, Taizhou City and Taixing City 18 years old rite of passage demonstration activities were held in Taixing Gymnasium. The students of Jiangsu Taixing Secondary Professional School who have reached the age of 18 step through the adult door together and step into a new stage of life with firm steps.
read >>
Guess you like