Yang Zhengping
Organized by 辞惘 on 2022-03-02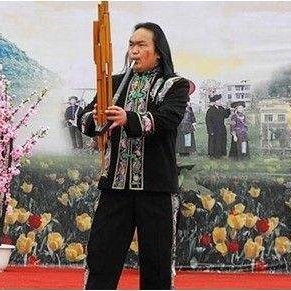 Yang Zhengping, Miao nationality, born in December 1974, is a native of Danzhai County, Guizhou Province, and has been fond of reeds since childhood. In 1992, he was admitted to the Lusheng class of the Guizhou Provincial Art School, and in 1997, he continued his studies in the Lusheng major of the Art College of Guizhou University.
Yang Zhengping is the representative inheritor of the Guizhou Provincial Directory of Miao Lusheng Music and Dance. He is known as the "Lusheng King" of the Miao ethnic group. In Kaili, Guizhou, many people will think of him when it comes to reed performance.
As the King of Lusheng, Yang Zhengping likes to perform on stage. He has performed in many countries such as the United States, France, Germany, and the Netherlands. Many people have come to know Lusheng in southeastern Guizhou through him. Now, he has begun to walk from the stage to the background, inspiring and driving more people to participate in sorting out and inheriting the reed culture.
Similar artist
Luo Wenjun, who walked out of Guizhou and went to the world with a Konoha, is now a national first-class actor and a famous Konoha performer in the Guizhou Provincial National Song and Dance Troupe.
read >>
Involving musical instruments
Lusheng (pinyin: lú shēng) is a reed instrument of the Miao, Yao, Dong and other ethnic groups in the southwest region. Its predecessor was the yu of the Han nationality.
Involved portfolio
Involved news
Organized by 夏浩东 on 2022-09-05
He created the repertoire of the reed ensemble, boldly innovated and tried the reed ensemble performance, and made the reed, a "rural" instrument, into the hall of elegance.
read >>
Organized by Susan on 2022-06-01
In order to let young people establish the concept of protecting and inheriting intangible cultural heritage from an early age, and enhance the national pride of students, on May 27, the Dong Nationality intangible cultural heritage culture propaganda group brought the unique musical instrument of the Dong family, the Lusheng, into Wuling Middle School. The Moral Education Office of the United School launched a unique publicity and performance activity.
read >>
Organized by 薄暮 on 2022-05-31
"The community has really done a good thing for our Miao cultural heritage and a real thing for our Miao people."
read >>
Organized by 赵锦辛 on 2022-05-27
"Everything comes into Sheng song, and there are Sheng music everywhere", Lusheng is a traditional and ancient reed wind instrument of the Miao people, which has accompanied the Miao people through thousands of years of history.
read >>
Organized by 黑猫不是喵 on 2022-05-24
Congjiang County, Xiangdong Town, Xiangdong Village School, in conjunction with the Customs Work Committee, combined with its own reality and local characteristics, organized "five old people" to come to the school to carry out a series of activities for the introduction of ethnic culture into the campus and the "Inheritance and Development of Jiudong Culture on Campus".
read >>