Ni Kaihong, member of the Third Youth Federation of Dehong Prefecture, examiner of Social Art Level Examination of Yunnan Arts University, President of Hulusi Association of Lianghe County.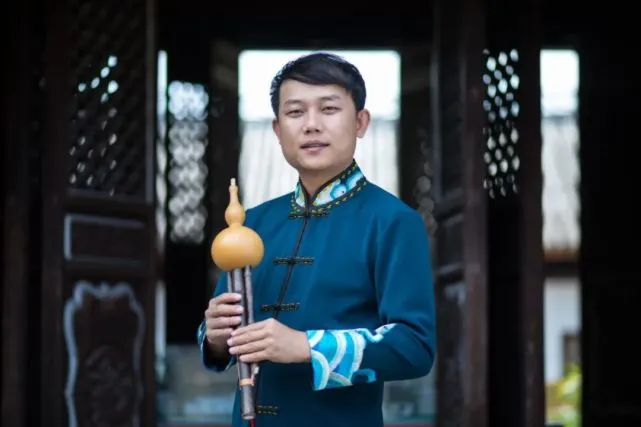 Love and persistence for the dream is his growth track
Born in Si, grow in Si, become in Si. Born in Mengyang Town, Lianghe County, the hometown of hulusi in China, Ni Kaihong has been fond of hulusi since childhood. When he was in the first grade of primary school, he began to explore by himself driven by strong curiosity and formed an indissoluble bond with hulusi. Since then, he started his journey of cucurbit flute music. During his school years, he visited many famous teachers, studied hard and practiced his skills. After graduating from Yunnan Arts University majoring in cucurbit flute Performance and Piano Tuning, he resolutely gave up the opportunity to work in big cities with his love for cucurbit flute and chose to return to his hometown Lianghe to devote himself to the innovation and promotion of cucurbit flute playing skills and the research and development of cucurbit flute making technology.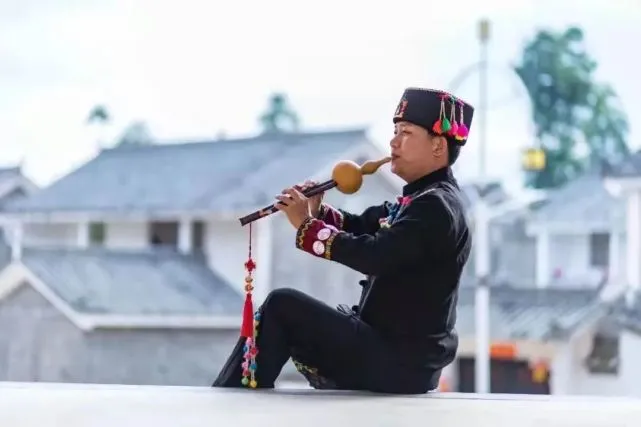 In order to better show the characteristics of minority music and create cucurbit flute works that more people like and appreciate, Ni Kaihong went to villages and villages, went deep into the masses, modestly consulted and visited folk artists, and combined modern popular elements with traditional cucurbit flute. In the end, he composed works featuring the musical elements and characteristics of five ethnic minorities living in Dehong, such as Cucurbit Flute, Hua-drum Dress, Munao Longitudinal Song · Hot, Qingxin House, Song of De Daw and the Lisu of Happiness, etc. Once the works were introduced, they were well received.
Popularizing and carrying forward national culture is his lifelong pursuit
Cucurbit gourd is not only a bridge for Ni Kaihong to connect with local ethnic minorities, but also an important carrier for him to connect with other ethnic minorities. In order to inherit the Hulusi culture, Ni Kaihong founded the Kaihong Hulusi Music Art Studio and set up training courses. Over the past ten years, it has cultivated more than 3,000 outstanding hulusi successors. Ni Kaihong led the students to participate in various artistic performances and competitions, and successfully declared the world record of "The World's Most People Playing Cucurbit Flute at the same Time". In addition, I actively participated in the "Five Courses" of cucurbit flute launched in Lianghe County, which allowed cucurbit flute to enter into government organs, military camps, enterprises, campuses and rural areas (communities), enriching the spiritual and cultural life of people of all ethnic groups in Lianghe. Everyone in Lianghe can play cucurbit flute, and cucurbit flute can be heard everywhere in Lianghe.
"I want to keep digging and creating more music works of other ethnic minorities, so that all ethnic groups will fall in love with and play the cucurbit flute." The cucurbit flute pieces created by Ni Kaihong have beautiful melody, rich connotation, national characteristics and high performance requirements. He has been invited many times to perform and academic exchange in the Great Hall of the People in Beijing, CCTV, Shanghai, Jiangsu, Wuhan, Chongqing, Hong Kong and other places, as well as invited to visit France, Switzerland and Spain for the promotion and exchange of cucurbit flute culture.
It is his mission to lead and promote youth employment
"My hometown is my root, and the thriving life scene of all ethnic groups in my hometown is the inspiration and source of my creation. I want to use the hulusi in my hand to play the love for my hometown." As a member of the third Youth Federation of Dehong, Ni Kaihong earnestly performed his duties as a member of the Youth Federation, actively participated in social public welfare programs such as employment and entrepreneurship of college students, donation for education, volunteer service, etc. He led his team members to register the gourd trademark "Siyuan", established Lianghe County Siyuan Gourd Musical Instrument Factory, and solved business problems for more than 40 local people.
"When a person integrates his youth into his career, then his youth will not be lost, and his career will certainly reflect the dazzling light in the years of experience." Ni Kaihong, member of the Zhou Youth Federation, has devoted himself to hulusi teaching and music creation for many years, as well as the research and dissemination of hulusi culture. Now he has become a well-known creative young hulusi player, Dehong cultural master, chief technician of Dehong, contact expert of Dehong State Committee, and representative inheritor of hulusi intangible cultural heritage. He has promoted the development of hulusi culture with practical actions. With a small cucurbit flute, blow out the song of the struggle of youth.