Bodhi of Clear Sound (Sea of Clouds and Forest flying)(guzheng sheet music)
Organized by 拙 on 2022-11-18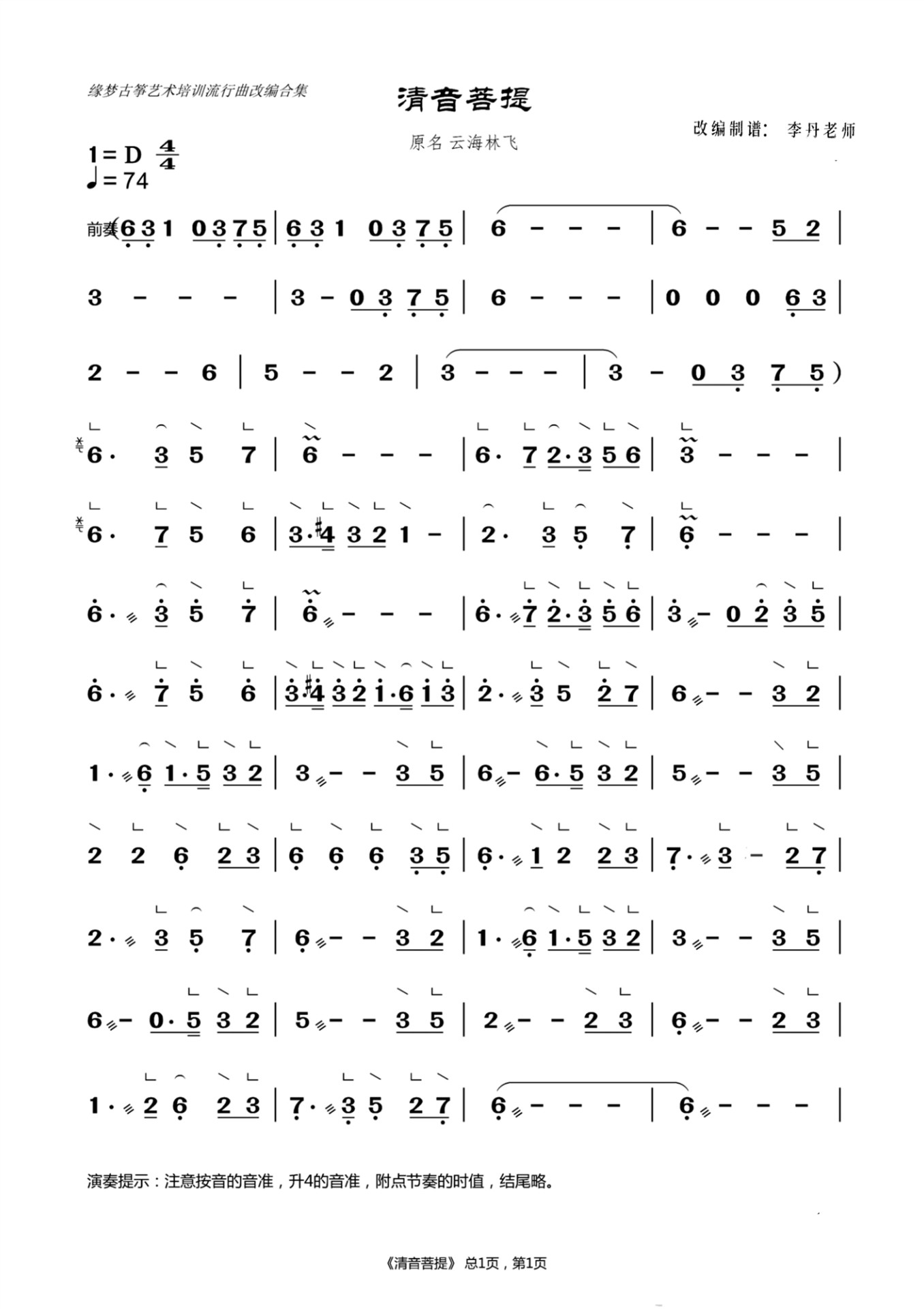 Bodhi of Clear Sound (Sea of Clouds and Forest flying) is organized by 拙 on 2022-11-18,You can use Guzheng to play; Through the music score provided by us, you will be able to master it skillfully and become a member of everyone.
注意按音的音准,升4的音准,附点节奏的时值,结尾略。
Involving musical instruments
Guzheng (pinyin: Gǔ Zhēng), also known as Hanzheng and Qinzheng, is an ancient national musical instrument of the Han nationality and is popular all over China. It is often used for solo, duet, instrumental ensemble and accompaniment of song and dance, opera and folk art. Because of its wide range, beautiful timbre, rich playing skills and strong expressiveness, it is known as the "King of Music", also known as "Oriental Piano", and is one of the unique and important national musical instruments in China.
News
Organized by 默妍 on 2023-03-07
The performance art of Shandong zither is one of the most influential zither schools in China. It is mainly spread in Mudan District and its surrounding areas in Heze City, Shandong Province.
read >>
Organized by 一杯清酒 on 2023-01-30
On the occasion of the arrival of the Chinese Lunar New Year, the outstanding representatives of the Chinese zither landed in the Times Square in New York, the United States, and broadcast on the NASDAQ large screen, and sent greetings to the Chinese people all over the world.
read >>
Organized by 沈梦溪 on 2023-01-04
At the beginning of the year, on the stage of CCTV's "Voyage 2023" New Year's Eve gala, Li Yang Guanyu, a zither player from Xuzhou, and a virtual performer played the song "Thousands of Miles of Mountains and seas" together, showing the beauty of rhythm of Chinese music between real and virtual, between mountains and rivers and the sea.
read >>
Organized by Fucui on 2022-12-27
Recently, the opening ceremony of "Learn the Top 20 · Jiangxi Poyang Zheng First" Jiangxi Guzheng Society, Jiangxi Guzheng culture and art achievement Exhibition, Guzheng master concert was held in Jiangxi Art Center.
read >>
Organized by 晚荣 on 2022-12-22
In the first half of 2022, henan lankao Gu Yang township government decision after discuss with related units, national instruments in music town street lankao public training - class craftsmen, invited lankao rural vocational college professional town in guzheng and pipa music the teacher on the scene teaching.
read >>
Guess you like