The most beautiful Jiangnan water(dizi sheet music)
Organized by 茯苓 on 2022-09-24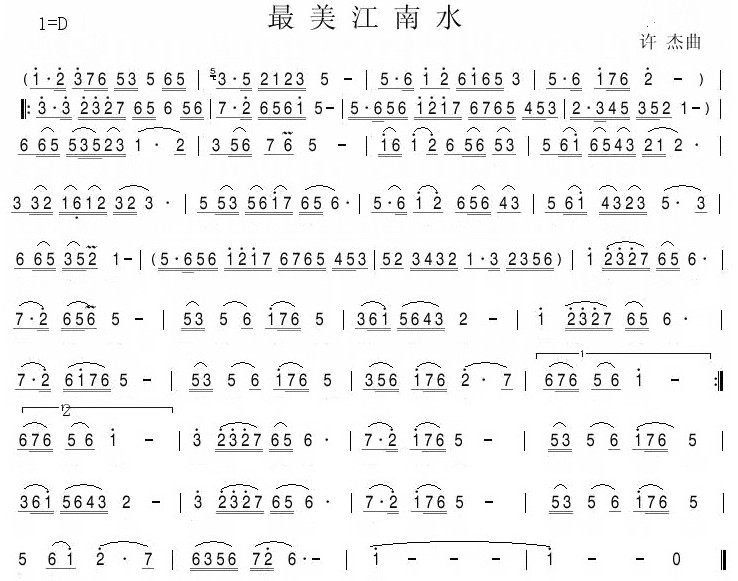 The most beautiful Jiangnan water is organized by 茯苓 on 2022-09-24,You can use Dizi to play; Through the music score provided by us, you will be able to master it skillfully and become a member of everyone.
It is said that Jiangnan is the most beautiful water in the south of the Yangtze River. Tingting lotus flowers stand with sparkling green waves, and the clouds and mists rise. The mandarin ducks follow closely.
Involving musical instruments
Dizi (pinyin: dí zi), also known as the horizontal flute, is generally used as an important musical instrument to accompany opera.
News
Organized by Eno Elvis on 2022-10-24
牧童在牛背上横笛而吹。这是音乐家贺绿汀童年生活的一个剪影。虽然饱经磨难的童年让他难得有那份闲适的心境。
read >>
Organized by 琪琪 on 2022-10-24
The ethereal and beautiful pottery flute, the bright and crisp bamboo flute, and the euphemistic and beautiful cucurbit flute make you enter the Fifth Primary School in Yangluo Street, Xinzhou District, Wuhan City, and you can sometimes be attracted by these beautiful sounds of national music.
read >>
Organized by 小何 on 2022-10-09
On the morning of October 7, the fourth "Songting Cup" National Flute Invitational Competition was hosted by Zhejiang Ethnic Orchestra Society and organized by Zhao Songting Flute Art Research Association.
read >>
Organized by 辞惘 on 2022-09-22
In order to celebrate the victory of the 20th National Congress of the Communist Party of China, on September 19, "Flute Rhythm - Han Lei Bamboo Flute Solo Concert" was staged in the Harbin Old Hall Concert Hall.
read >>
Organized by 赵锦辛 on 2022-09-12
The flute has flat blowing and urgent blowing, which are the playing skills of the flute. The flat blowing should be slow, and the urgent blowing should be fast. These two techniques often appear in the expression of the flute music.
read >>
Guess you like