"Although very tired, but dripping dripping", Tan Weihai still felt more than enough after playing bamboo flute for netizens for 3 hours in @Tan Weihai Dixiao studio. As a patient with congenital visual nerve atrophy, Tan Weihai's world is dark, but he lets more people see him by playing bamboo flute. With the income from live broadcasting, Tan Weihai not only established a home, but also found his value again in the online stage of the broadcast room.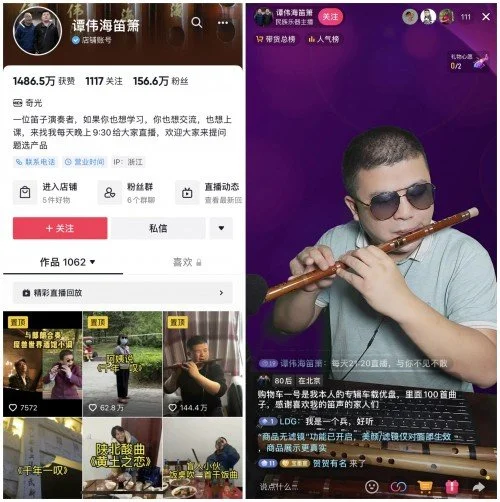 Tan Weihai was born in Gaoyou, Jiangsu Province. Like many blind people, he experienced a childhood in which he sought medical treatment, went to school and had no friends. The radio became his bosom friend, where he heard the sounds of suona and opera, which planted the seeds of art in his heart. In 1999, Tan Weihai was admitted to Yangzhou special Education School. Between learning music or massage, Tan Weihai chose the former, and bamboo flute forged an indissoluble bond.
Tan Weihai had to overcome more difficulties in learning to play bamboo flute due to physical reasons. At first, due to asthma, when he played the flute for a while, he would suffer from hypoxia and dizziness. Later, with constant hard practice, his qi became more and more stable. He could not see the music, so he listened to it again and again until he knew it by heart... In those years, he spent more than ten hours practicing basic skills almost every day. In 2005, Tan Weihai finally won the first prize in the National Cultural and Entertainment Performance for the disabled. After graduating from school the following year, he successfully joined the China Disabled People's Art Troupe.
Since then, Tan Weihai has had more opportunities to perform. Beijing Paralympic Games, Guangzhou Asian Paralympic Games, New York Lincoln Art Center, he stepped on one magnificent stage after another, which made him feel that "all the efforts were not in vain". But as soon as he stepped down, he would fall into a lonely. He hopes to gain recognition through his bamboo flute playing, but many times he feels more like a symbol than someone who really appreciates him musically.
In September 2018, Tan Weihai began sharing his playing in short videos on Douyin. At first, Posting videos was more like a lottery for him, until July 2019, when he casually recorded a song called "The Sea Laughs," which received over 20 million views and over a million likes. "There is a sword at the beginning" "the best version I have ever heard", Tan Weihai's bamboo flute playing infected countless netizens, everyone praised his playing skills and emotions, and this is what Tan Weihai has been pursuing.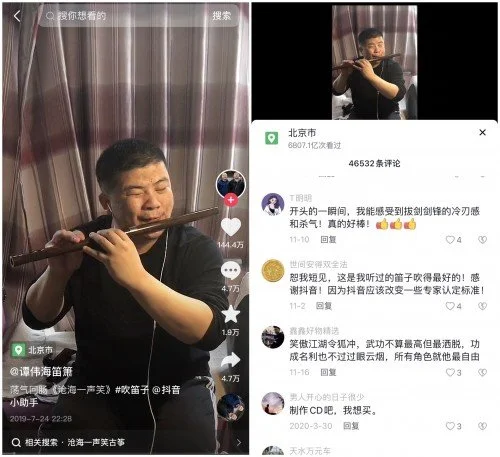 Around January 2020, the number of offline performances decreased, which made the newly married Tan Weihai's economic pressure suddenly increased. In order to relieve the pressure, Tan Weihai simply transferred the center of gravity to the broadcast room. At first, users didn't tip much. Gradually, he fixed the time of broadcasting every day, interacting with netizens and playing some popular tunes. The crowd gradually gathered up, one night Tan Weihai continuously blew 20 times "the sea a laugh", but he was still very excited, "before there is no strength, now that we like to listen to, I will blow to you."
Slowly, Tan Weihai broadcast room popularity more and more prosperous. There, he gained recognition and more financial rewards. Within three years, Tan Weihai had a steady source of income from livestream classes on tipping, bringing goods and selling bamboo flutes. In addition to paying the mortgage, he began to save money and was able to invest more in his children's education. Tan Weihai has never shied away from making money from the studio. He believes that artists also need to eat, and material is an important support. Live tips are a kind of motivation, which allows him to continue to make music.
Through live broadcast reward, Tan Weihai finally live his "do master" life. So he began to help other blind people. He now has about 20 blind students in his studio, almost all of whom are masseurs, and four or five of whom are former classmates of Tan Weihai's at a special education school in Yangzhou. Tan Weihai is very happy to meet them again, from the folk to the professional stage and back to the folk, he has already recognized the more universal value of music, "learning music does not have to rely on it to eat, the blind are willing to continue to learn music in the rush, emotion is very pure."
In the studio, Tan Weihai finally felt that he was no longer a symbol. Every time the opening music came on, he felt like a healthy, natural person. As a blind man, Tan Weihai's world is dark, but music allows him to see light in the darkness. Now, with the performance and teaching in the studio, Tan hopes to let more people feel the light and fall in love with Chinese folk music.