He is "Farewell My Concubine" in the magnificent, not crazy and not live Cheng Dieyi; He is "Jinzhi Yuye" talented, proud Jiao and unruly Gu Jiaming; He is "A Chinese Ghost" in the kind spoony weak scholar, Ning Caichen. He is he, different fireworks... Leslie Cheung.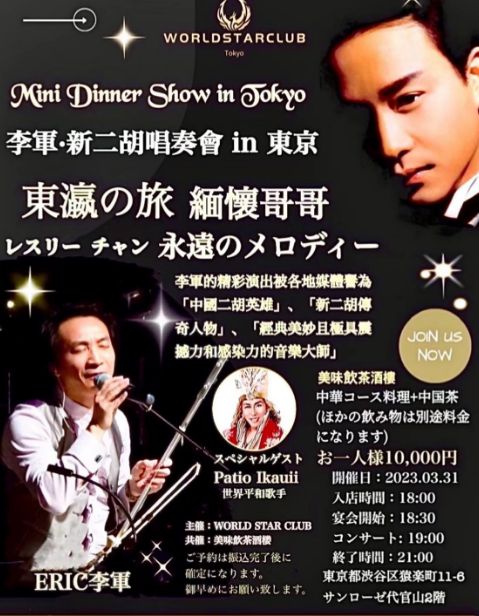 Every year, countless people remember his elder brother in their own way. On this occasion, Li Junxin Erhu Concert is held in Tokyo, Japan to commemorate the 20th anniversary of his death.
On March 31, Li Junxin's Erhu concert in memory of his brother was successfully held in Tokyo. The event was organized by Shixing Enterprise Painting Co., LTD., and co-organized by Delicious Tea Restaurant. This event is honored to invite erhu player Li Jun to share his music with you.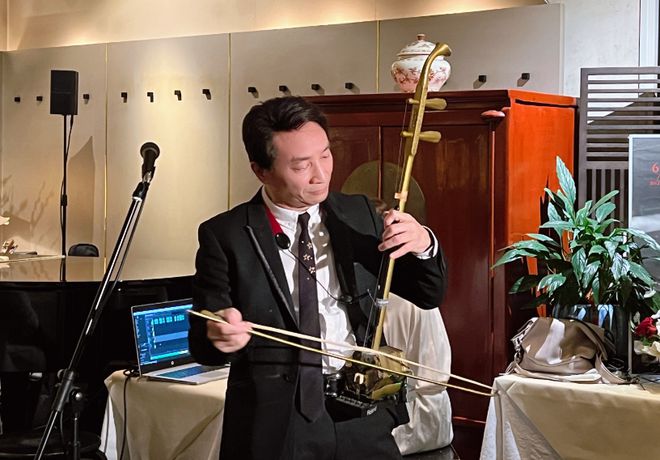 This is the 20th anniversary of the death of Leslie Cheung, an iconic entertainer in Hong Kong. Leslie was a well-known and popular renowned artist in Hong Kong, Taiwan, Japan and South Korea. Therefore, Mr. Li Jun has specially brought you some classic songs of Leslie Cheung.
ERIC Li Jun is a famous erhu artist from Hong Kong and a multi-talented crossover musician. In the 1990s, he studied composition theory under Professor Mu Hong, director of Composition Department at the Central Conservatory of Music. After that, he lived in Malaysia for a long time as a music producer and record producer. In 2011, he plans to move to Hong Kong. As an independent musician, he is active in the cultural and entertainment industry of Hong Kong. He is currently the president of Hong Kong Overseas Cultural Exchange Association, the vice president of Global Chinese Pop Music Association, the copyright member of China Music, and the member of China Musicians Association.
He is a master erhu artist in Southeast Asia and is popular in Hong Kong and Malaysia.
He has performed for Chinese Premier Wen Jiabao at the special invitation of Malaysian Prime Minister Abbadullah Badawi.
He was hailed by the media as the "hero of the Erhu".
Mr. Li Jun was born in Shanghai to pursue his music dream, drifting overseas for more than 30 years. During his years abroad, Li Jun created the most diverse Erhu music of today, including classic Erhu music of the new century, Latin jazz music, multi-ethnic music of the world, modern popular music, and religious music. He has also performed with Western symphony orchestras, cross-border Chinese and Western bands, pop bands, Latin jazz bands, etc. These bold innovations make traditional Chinese erhu full of romantic and fashionable colors, arousing the audience's resonance and passion.
He has released 15 solo albums in Southeast Asia and is the best-selling Malaysian record, reported by Sin Chew Daily, the largest Chinese newspaper in the region. It is worth mentioning that in May 2004, Li Jun was invited by former Malaysian Prime Minister Abbadullah Badawi to give a wonderful performance for then Chinese Premier Wen Jiabao. This is an unprecedented artistic achievement in the overseas Chinese music industry, and also a classic record of the brilliance of Chinese music overseas.
After moving to Hong Kong in 2011, Li Jun created his own unique performance form "Li Jun · New Erhu Singing and Playing (Series theme) Concert", integrating into the local culture of Hong Kong, showing his crossover music talent. He is also the only musician who holds large-scale solo concerts in Hong Kong's top arts halls such as Hong Kong Cultural Centre and Hong Kong City Hall every year. Li Jun's wonderful performances have been praised by local media as "Chinese Erhu hero", "New Erhu legend", "classic and wonderful and extremely powerful and infectious music master".
Program of events
Horse Racing (Li Jun's adaptation of the traditional Erhu)
When the Wind Rises Again
Long May it Last
Back in the Day
Running to the Future
Song from Midnight)
Monica
The Moon Represents My Heart
Together
"You Raise Me Up"