In order to enhance the competitiveness of Gu Yang town folk instrument products, expand the national musical instrument market share now, promote the development of national Musical Instruments cultural inheritance, promote national musical instrument production acting skills, absorb the peripheral villages and towns of idle labor, implementation industry revitalization of leading rural revitalization. In the first half of 2022, henan lankao Gu Yang township government decision after discuss with related units, national instruments in music town street lankao public training - class craftsmen, invited lankao rural vocational college professional town in guzheng and pipa music the teacher on the scene teaching.
On December 16th, the first class of Craftsmen class of Lankao National Musical Instrument Performance Training, which lasted for three months, ended with glory. At the graduation ceremony, by Gu Yang town, deputy party secretary Ding Xiaodong, deputy mayor magar grant honorary certificate to the students, congratulations you smooth completion. The students presented the two teachers with pennants to express their gratitude. After the completion of the class, students and teachers have taken a group photo, in everyone's face is filled with a happy smile.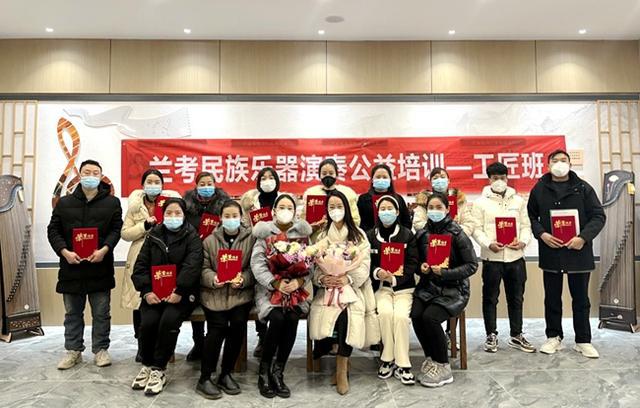 It is understood that Lankao National Musical Instrument Public benefit training class has been implemented in three phases. The honorable graduation of the first class of the current phase has laid a solid foundation for the smooth development of the next two phases. In the next two periods, the training teacher plans to continue the teaching experience of the first class, starting from the general music theory, the sitting position of the performance, the hand shape of the performance and the fingering of the performance, and gradually extending to the skills and methods of the guzheng performance, such as sweeping and shaking, holding and shaking, two-hand finger practice, fast wheel wipe, minor polyphony, etc., leading the students to practice the repertoire syllable by syllable, and then practicing the repertoire segment by segment independently. Finally, I can play simple performance pieces with my teacher independently.
It is believed that in the near future, Lankao Folk Musical Instrument Public Benefit Training Class will become a platform for the majority of folk musical instrument lovers to communicate, attract more and more rural idle labor force who love folk music, and enable more and more folk musical instrument craftsmen to know how to make zither and be good at playing it. This will continuously promote the inheritance and protection of folk musical instrument culture, thus driving the development of folk musical instrument industry.