Almost all folk music lovers have read Zhou Zijun's videos. Recently, the 25-year-old has also become a hot search.

On Douyin, his account is called "Zhou Zijun", with 1.293 million followers and 11.821 million likes, a real "folk music celebrity". He once got 1.521 million likes on a video of "The Musician", and some netizens left a message: "Come and wash your ears". When he was 7 years old, his family hired a teacher for Zhou Zijun to teach him how to play the erhu. He had no special feelings for the erhu. When he was 9 years old, his parents sent Zhou Zijun to Beijing to be admitted to the middle school attached to the China Conservatory of Music.
Zhou Zijun and his father as a child
Talent will eliminate most of the piano boys, and a small number of people who stand out. It is also facing cruel competition. According to the admission list of the junior high school, which was announced last year by the Affiliated High School of the China Conservatory of Music, there are 41 folk music students recruited nationwide, of which only 6 are erhu majors. Erhu gradually took over all of Zhou Zijun's life. In the days of preparing for the exam, he practiced 7 to 9 hours a day. His father stayed in his hometown, and his mother accompanied him, doing odd jobs to support the family. They lived in a shared house, and Zhou Zijun didn't move out after he was successfully admitted to the attached high school. They lived there for 9 years.
Zhou Zijun and his mother as a child
Until the third year of high school, Zhou Zijun dropped out. At the age of 18, Zhou Zijun was only one year away from being admitted to the university. However, he is no longer the self who just came into contact with Erhu when he was 7 years old. He began to form his own musical concept, hated the erhu, and secretly learned the electric guitar. Erhu means a technique, a set of rules, in short, not what he wants to pursue.
Zhou Zijun, a teenager, performed at the first China-Japan-Korea Folk Music Competition.
After dropping out, he did a year of rock and roll in Beijing. In the end, he returned to his hometown in Chongqing, but no one understood him. He needed a chance to prove himself.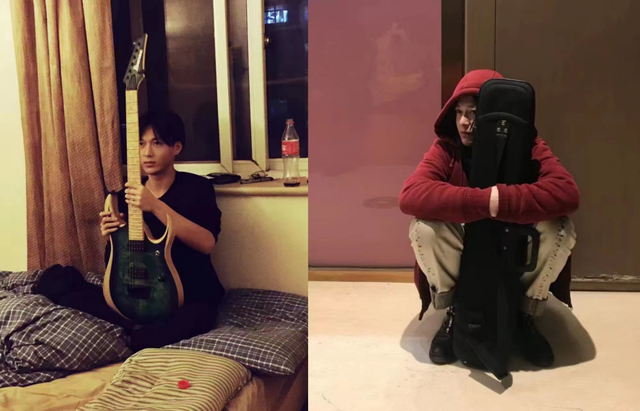 Left: Zhou Zijun and his electric guitar, who stayed in Beijing to explore rock; Right: Zhou Zijun hugged his erhu when he just returned to Chongqing.
Later, Zhou Zijun became one of the earliest users of Douyin. He began to pay attention to the insiders, and also began to understand that he was not satisfied with just being an erhu player. Just like when he was practicing the piano as a child, he had demands on himself. First, it must be technically professional, and second, try to capture what other people want to hear and resonate with the audience. Finally, the personal symbol "I think Erhu needs an IP, I choose to use my own name to make this IP"
In just one year, he became a folk music blogger with millions of fans. In the past, he didn't even have the money to repair the piano. Now, he moved out and rented a house, saved money for equipment, and expanded his music career. Fans jokingly called him "the Snape of the erhu world", which was not only "playing tricks" with his styling, but also summarizing his "teaching" style during live broadcasts. In fact, he repeatedly emphasized that he was "very happy and very happy" because he drew more and more young people into the "pit" of folk music.
According to data, in the past year, there were more than 1.78 million live broadcasts of folk music on Douyin alone, and the cumulative live broadcast time exceeded 2.33 million hours. With the "DOU National Music" program jointly launched by the Central Chinese Orchestra and Douyin, more and more young people will come here and feel the charm of folk music.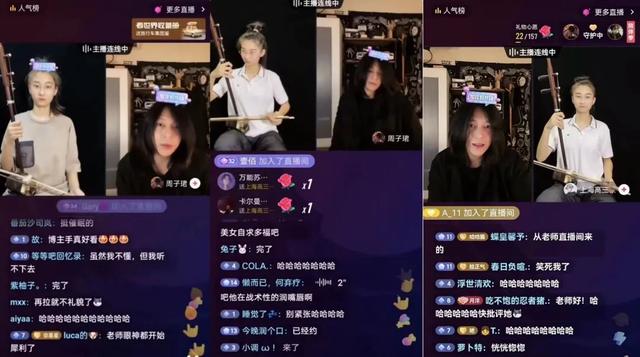 The pen is a must, there are thousands of waves on the shore, and Zhou Zijun's 18-year-old is not worthy of most people's experience. He used 18 years of piano learning to play against his choice, and erhu. Some people are in a hurry to give Min Le a "critical illness notice", some people are busy defining what young people should be like, a little more encouragement and a little less questioning, one day they will prove that they will get up after a fall, never casually, and also. Not so simple.