Zhongruan is a Chinese musical instrument with a quiet, soft and poetic timbre, similar to Qin Qin.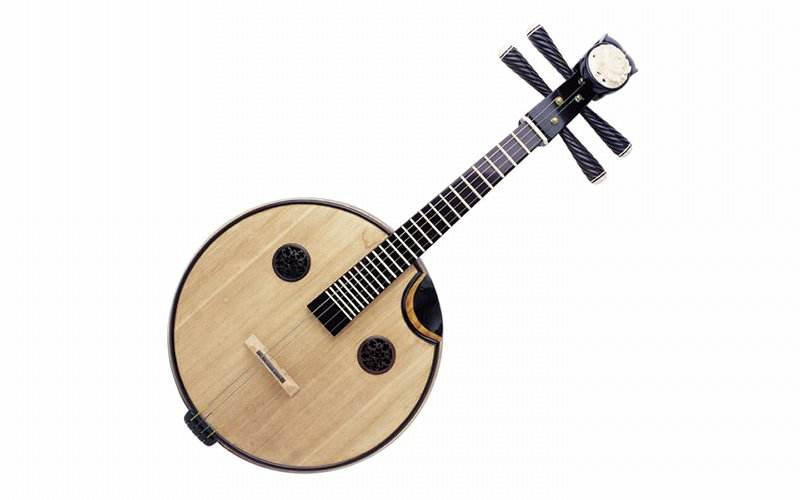 Ruan Xian originated in Qin and Han Dynasties, flourished in Tang and Song Dynasties, and declined in Ming and Qing Dynasties.
In the Qin Dynasty, hundreds of thousands of people built the Great Wall, and they couldn't use shouting to talk. Later, they made a drum, and they knew it was time to eat. Everyone lives together and wants to be entertained, so they put a string on the drum. From this musical instrument, two musical instruments were derived, one is the three-stringed instrument, and the other is the Qin Pipa, which was later made of wood. ,
In the second year of Yuanding, Emperor Wu of the Han Dynasty (115 BC), Zhang Qian sent an envoy to Wusun State, and Wusun King Kunmi intermarryed with Han. Before Princess Wusun got married, Emperor Wu of the Han Dynasty ordered a musical instrument maker to make a musical instrument that could be played on horseback and was easy to carry to relieve Princess Wusun's longing for her long journey. This instrument is "Ruan", which was called "Qin Pipa" in ancient times.
According to legend, Ruan Xian, one of the "Seven Sages of Bamboo Forest" in Wei and Jin Dynasties, was famous for playing the pipa. He completed the reform, so later generations called it "Ruan Xian" or "Ruan Xian Pipa".
During the Tang and Song dynasties, Ruan was very popular, and there were a handful of noble families. The Tang Dynasty poet Bai Juyi once wrote in his poem: "It's not a qin, not a zheng. It's not a zither, but it's not a zither. Don't take the name of Ruan's family. Who knows the ancient tune, and the first time you hear it, it's full of surprises." influence. Song Taizong, the second emperor of the Song Dynasty, could play Ruan, not only that, but also compose music, make musical instruments, and play for ministers.
In the Song Dynasty, Ruan Xian was referred to as Ruan for short, and this name was followed. But Ruan gradually disappeared in the Ming Dynasty, and the Qing Dynasty could no longer find such an instrument, and it was completely lost.
In modern times, at that time, domestic national orchestras already had the "Ruan" musical instrument, but it was not the real Ruan Xian who "originated in Qin and Han Dynasties, prospered in Tang and Song Dynasties, declined and Ming and Qing Dynasties". Ruan's method of making it has been lost for nearly a hundred years.
In 1952, the National Orchestra of the Central Song and Dance Ensemble was established, which was the first domestic professional national band after the founding of New China. The band found photos of Ruan collected in Shoso-in, Japan, and followed the map. The Ruan in the photo has black patterns printed on the body, which was misunderstood as hollow at the time. Therefore, the Ruan made after the founding of the People's Republic of China has a hollow.