On the evening of January 7, the music ensemble concert "Flute and Music" will be held at the Tianjin-style Theater. The concert was carefully prepared by professors Li Fengyun and Wang Jianxin from Tianjin Conservatory of Music as a New Year gift to the audience.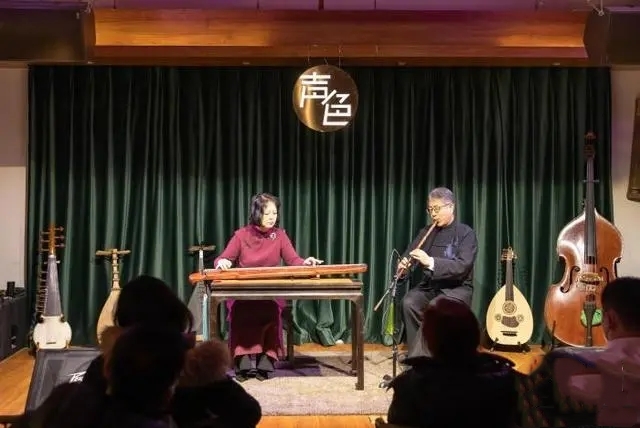 The concert began with Professor Li Fengyun and Professor Wang Jianxin's Qin and Xiao ensemble "Three Lanes of Plum Blossom". Plum is the clearest of flowers, and qin is the clearest of sound. The clearest thing written in the clearest voice should have the rhyme of Lingshuang. The subsequent guqin solo "Flowing Water" and "Guangling SAN" are the repertoire of Professor Li Fengyun's concerts for many years. The story of Boya and Zi Zi's "High Mountain and Flowing Water" becoming "bosom friends" is well known. The lofty mountain and surging water in the music show the feelings of the people of "Leshan is for the virtuous, and water is for the wise".
It is understood that in 2003, Guqin art was included in the UNESCO intangible Cultural Heritage list, "music" work has become an important part of the excavation and inheritance of Guqin art. In the concert, Yi Zhen and Thinking of Friends in the Mountains were composed by Professor Li Fengyun, both of which were taken from the Secret Music of Magic in 1425. Yi Zhen is recorded in Qin history as written by Tang Dong Tinglan. "Thinking of friends in the mountains" or feeling, or nostalgic, artistic conception is far away, there is endless yearning feeling in the quiet.
On the scene, Professor Wang Jianxin and Professor Li Fengyun played the ancient Xu solo "Chu Song" in addition to the qin and xiao, and the ancient desolate sound lingered in our ears for a long time. The following "Fragrance" is an impromptu performance of the melody of the same name composed by Jiang Baishi in the Song Dynasty by two musicians. A kind of lonely high appears under the fingers, like a cold fragrance refreshing the heart.
It is reported that Nanyin, originated in Quanzhou, Fujian province, is known as the living fossil of Chinese music. In 2009, it was selected as the representative work of the intangible Cultural Heritage of UNESCO. In the concert, two professors played Nanyin's music "Plum Blossom Exercise" and "Wind Beating Pears", which brought the audience unexpected surprises for the New Year and offered the best wishes for the New Year with music.