Five-hole flute fingering table
1407 views · Organized by 雾凇 on 2022-02-10
The mouth flute, the smallest member of the Chinese bamboo flute family, is the fingering table that beginners are more concerned about. The following is a five-hole mouth flute fingering table for everyone.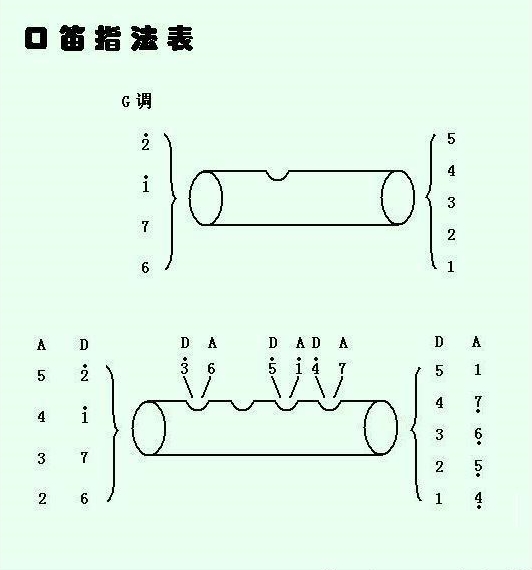 Five-hole mouth flute, left and right thumb holes, three sound holes, the top row of small holes in the picture, the second one on the left is the blow hole, the blow hole is relatively large.
Involving musical instruments
Mouth flute (Pinyin: kǒu dí) is a bamboo musical instrument. In 1971, Mr. Yu Xunfa, a famous bamboo flute player, invented and created the mouth flute, which is suitable for solo, ensemble and accompaniment.
Guess you like
Organized by Eno Elvis on 2022-02-10
The expressive power of the flute is very rich. It can not only play a long and high-pitched melody, but also express a vast and broad mood. Regarding the maintenance of the flute, the following must be paid attention to.
read >>
Organized by 天井 on 2022-02-10
To play the mouth flute, the thumbs of the right and left hands control the first and second holes, the index finger of the left hand presses the third hole, the middle finger and index finger of the right hand press the fourth and fifth holes, the ring finger of the right hand and the middle finger of the left hand press the body of the flute against the lips, and the ring finger of the left hand Hold the flute with the back of your fingers.
read >>
Organized by 袁城 on 2022-02-10
The mouth flute is simple in structure and easy to make. It is mostly made of yellow withered bamboo or small water bamboo. It can also be made of long-stemmed bamboo, water hyacinth bamboo, purple bamboo or other materials.
read >>