The noon sun shines through the vines of the vines in the courtyard and shines on the old man Reheman Abdullah. He fastened a piece of mulberry to the stake with his left hand, and the chisel clenched in his right hand rose and fell like a woodpecker, spattering sawdust.
In a short time, the hard mulberry wood was chiseled into the shape of a scoop, and the body of a traditional Uyghur musical instrument, the Dutar, was basically formed.
"My grandfather knew how to make musical instruments. I have been learning since I was a child and have been doing it for 60 years. Now my apprentices have all started their families by making musical instruments." Reheman said.
Reheman lives in Towanke Wukusake Village, Wukusake Town, Shufu County, Kashi Prefecture, Xinjiang. In contrast, the name "Musical Instrument Village" is easier to remember, and the locals also call it that.
On the white wall of his courtyard facing the gate, a plaque is particularly conspicuous, which reads "National Demonstration Base for Productive Protection of Intangible Cultural Heritage", which was awarded by the Ministry of Culture in November 2011. In 2008, Reheman became the representative inheritor of the third batch of national intangible cultural heritage projects of national musical instrument making skills. At 70 years old this year, he has brought more than 50 apprentices.
33-year-old Mamuti Reheman is the youngest son of the old man and his apprentice. Mamuti said: "My father can play 27 kinds of musical instruments. I learned from him when I was 7 years old. Now I can play 4 kinds of musical instruments including Dutar, Rewav and Sattar, and I will learn more from my father in the future."
Under the influence of their father, all four of the Mamuti brothers have succeeded in their studies, and they are engaged in musical instrument production and sales in Urumqi, Kashgar and Shufu County respectively. Affected by the new crown pneumonia epidemic in the past two years, the number of people who went to the village to buy musical instruments has decreased, but Mamuti has learned to sell musical instruments by playing live online. It is very convenient to bring goods live."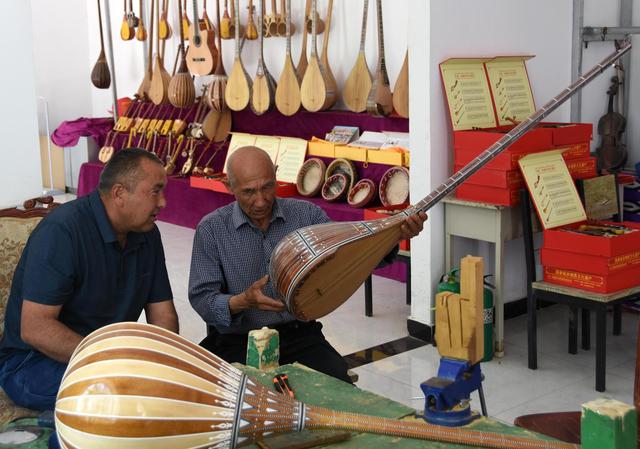 Dong Yantao, Secretary of the Party Branch of Towankewukusak Village, explained that the "Musical Instrument Village" has a history of making musical instruments for more than 150 years. There are many households, accounting for one-tenth of the total number of households, and some families have been inherited for five generations.
In order to protect and inherit the traditional musical instrument making skills of ethnic minorities, in 1999, Shufu County organized musical instrument making professional households in the village to establish ethnic musical instrument workshops. In 2000, the State Council named the village "China Xinjiang Ethnic Musical Instrument Village". With the help of Guangdong Province's counterparts in Xinjiang, a national musical instrument museum was built in the village, displaying more than 100 representative musical instruments of Uyghur, Kazakh, Tajik, Han and other ethnic groups, as well as village craftsmen The "treasures of towns and villages" made by them are Rewafu with a total length of 3.39 meters, Dutar with a length of 4.7 meters, Sattar with a length of 4.95 meters, and a giant tambourine.
With the financial support of the state, autonomous region and county, the inheritors of the intangible heritage and the craftsmen of the ethnic musical instrument workshops in the village like Reheman Abdullah will receive a subsidy of 10,000 to 40,000 yuan every year, so that they can focus on ethnic musical instruments production and inheritance. At present, there are 27 categories and more than 50 kinds of musical instruments produced by hand in the "Musical Instrument Village".
In recent years, Wukusak Town has also moved the extracurricular practice classes of primary schools to the "Musical Instrument Village", where students can observe the production process and performance skills of musical instruments on the spot. Dong Yantao said: "Children can be nurtured from an early age, so that the excellent traditional culture of the nation can be passed on from generation to generation."