The 28th "Autumn of Chengdu" Chengdu International Music Season "String Charm West Shu" He Chaobo's works and Hu Qin special concert was played in Chengdu City Concert Hall on the evening of 13th.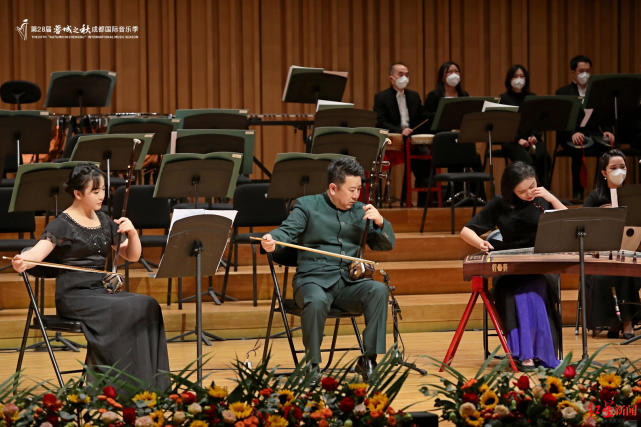 He Chaobo, the famous Huqin player, national first-class performer and principal of Chengdu Chinese Orchestra, together with Cao Bo, the conductor, together with Chengdu Symphony Orchestra, Chengdu Chinese Orchestra and the students' Choir of Sichuan Conservatory of Music, brought to the audience "Taste", "Butterfly Love · Immortal", "Sanmenxia Fantasy" and "Western Shu Qin Rhyme".
A Huqin and guzheng "Taste" kicked off the concert. The Xiaohuqin music of He Chaobo is bright and penetrating; the Guzheng music of Chen Shuyu, a young performer, is crisp and winding; the Erhu sound is unique and melodious; and the high, rapid and cadence of percussion music make the music emotion of the works penetrate into people's hearts.
Next, the Erhu and pipa song "Butterfly Love, Travel Fairy", the Erhu solo "Sanmenxia Rhapsody", "Early Spring in Miaoling", the erhu trio "Love"... No matter He Chaobo's solo performance or ensemble performance with other artists, the skillful technique and deep emotion between the bow string waving fascinated the audience, fully demonstrating the artistic charm of folk music.
"The culture of Western Shu is flourishing, and the art of Sichuan opera is more splendid. Don't say Huqin not ecstasy, not Chuan cavity rolling ". The large-scale Huqin medley, The Melody of the Western Shu Qin, was carefully composed by He Chaobo. The melodies are composed of three movements: Gaoqiang Yun, Huqin Sing and Playing the Opera. The melodies of Sichuan Opera are mainly Gaoqiang, Huqin and playing the opera, and are compatible with the tunes of Kunqiang and Dengxi. This is not only a high concentration of various roles in Sichuan Opera in the voice, but also a reflection of Sichuan opera art from the form of Huqin performance, and the essence of Sichuan opera culture in the musical image of infiltration and sublimation. At the end of the song, there was a lot of applause.
"Don't listen to the sound of the forest beating the leaves, why not roar and walk slowly. Bamboo stick ear sandals light horse, who is afraid? An alpine rain for life!" Chen Zhilin, the famous Sichuan opera performing artist, brought to the scene the "Settling Storm", which conveyed Su Shi's natural and unrestrained life with the Sichuan opera voice, leading the audience to feel the charm of the ancient temple and the long cultural context.
The final piece of the evening was He Chaobo and Chen Zhilin, two outstanding artists, together with Solang Niuguqin Art Troupe, brought erhu Niuguqin and symphony "Jingshan Mountain Ballade". This piece uses classical red song music elements, local opera characteristics percussion and singing forms, with the erhu and Tibetan characteristics of the musical instrument "cowhorn Qin", to express the Red Army over the Jiajinshan Mountain arduous journey, and after the victory of the army and the people together.