debut eight cymbals(luo sheet music)
Organized by 华夫饼 on 2022-03-08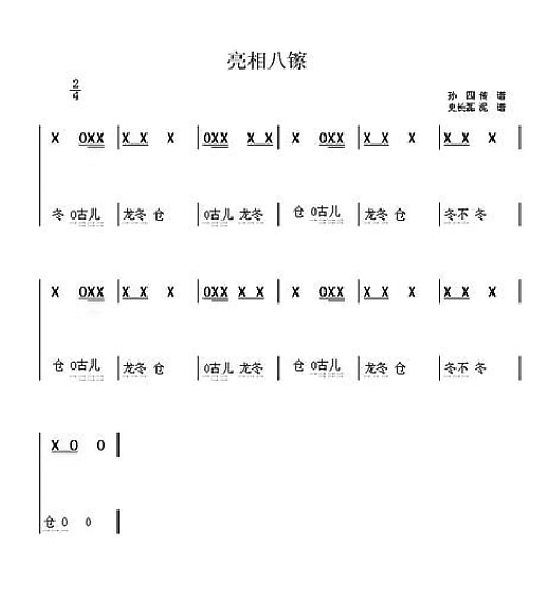 debut eight cymbals is organized by 华夫饼 on 2022-03-08,You can use gong,bo,cha,dagu,xiaogu,daluo to play; Through the music score provided by us, you will be able to master it skillfully and become a member of everyone.
The appearance of eight cymbals is a commonly used music for gongs and drums, and "debut" is a performance action in opera. A brief pause when the main character comes on, before he goes off, or after a dance.
Involving musical instruments
The big gong (pinyin: dà luó) is a kind of gong, and it is called the big gong because of its large face. It is made of copper, about 30 centimeters in diameter, flat and round, with sides, with smaller side holes and tied with ropes. When playing, the left hand is holding the gong and the right hand is holding the mallet.
Xiaogu (pinyin: xiǎo gǔ) is a musical instrument of the Zhuang, Dong, Yi, Tujia and other ethnic groups. Popular in Guangxi, Guizhou, Yunnan, Hubei, Hunan and other provinces. Snare drums are mostly used in the folk, and are used during Chinese New Year. It is basically the same as the big drum, except that the drum skin is made of sheepskin, and the side that does not strike is stretched with multiple strings; the drum drum uses two hardwood drums, and the drum head is smaller and does not contain any foreign objects.
Big drum (Sanskrit name dundubhi) musical instrument name. A kind of percussion instrument, also known as Taiko and Tanggu, is also the most frequently used percussion instrument. That is, a hollow wooden cylinder is covered with leather for percussion instruments. The exterior color of the drum body is mostly red, and a few are black and wood color. The bass drum is struck by a single drumstick, called the big drumstick, with a head that can be used on both sides and is covered with wool or felt. Usually when struck, it is between the center of the drum and the rim of the drum, and the center of the drum is only used for short and fast hits (staccato) and special effects.
The cymbal (pinyin: chǎ) is a Chinese percussion instrument, that is, a small cymbal. Also known as cymbals, hinges, etc. There are two common types of Chinese folk cymbals: brass cymbals and iron cymbals. Because the cymbal is an instrument with no fixed pitch, generally speaking, the sound of the small cymbal is the highest, followed by the middle cymbal, and the sound of the large cymbal is the lowest.
The cymbal (pinyin: Bó) is a percussion instrument with no fixed pitch. Bronze, with a bulge in the center, they are made of two round copper plates that strike each other. It is usually played together with gongs and drums to form a gong and drum team. Chinese cymbals also appear in Western music, but their size is usually less than 11 cm.
News
Organized by 拙 on 2022-06-23
In the ancient city of Shouzhou, many gong and drum teams are active, and gong and drum performances are held during the festivals.
read >>
Organized by 一杯清酒 on 2022-06-22
On June 18, the 2022 Xianfeng County Cultural and Natural Heritage Day and the Cultural and Ecological Protection Experimental Zone construction achievements publicity and display activities were held in the Tangya Tusi City Site Scenic Spot.
read >>
Organized by 氯化钠 on 2022-06-21
Getiaogang Township, Changli County, while actively developing beautiful villages, also strives to do a good job in cultural construction, and organizes cultural talents to carry out various forms of cultural and entertainment activities in the spare time after dinner to enrich the spiritual and cultural life of the masses.
read >>
Organized by 八日蝉 on 2022-06-15
"One after another, that mountain comes, one after another of water..." The northern Shaanxi folk song "Shandan Dan Blossoms Red and Bright" played by Yan'an Red Street Internet celebrity "Red Street Rabbit" and local folk singer Zhang Yongwang just opened, and it quickly became popular in the audience. There was a "sound wave" in the live broadcast room.
read >>
Organized by CT. on 2022-05-06
Instruments required for the Suona Band: Drums, Xiao, Erhu, Pipa, Cymbals, Gongs, Bamboo Flute, etc.
read >>
Guess you like