Promote the excellent traditional Chinese culture and practice the education of "cultural nourishment in Xinjiang"
215 views · Organized by 秋色 on 2023-06-20
To promote the excellent traditional Chinese culture and effectively implement the educational connotation of "cultural nourishment in Xinjiang". Recently, the voluntary service of Chinese national instruments on campus and the exhibition of characteristic courses of Korla Lixiang Primary School jointly held by the Korla Musicians Association and Korla Lixiang Primary School in Xinjiang kicked off.
Pipa solo "Send Me a Rose"
At the activity site, nearly 10 artists from the Korla Musicians Association played music and song titles with zither, pipa, erhu, Morin khuur, bamboo flute and other instruments. The music was melodious and beautiful, presenting a wonderful audio-visual feast for all teachers and students.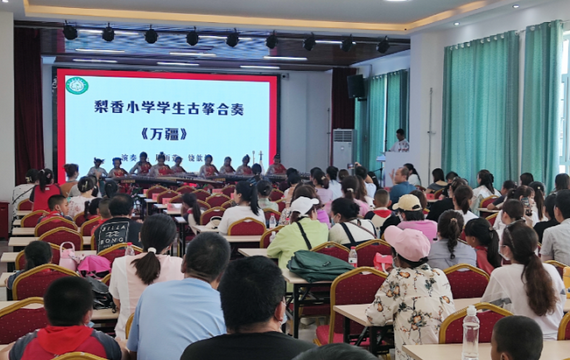 Guzheng ensemble "Wanjiang" brought by the characteristic course class of Lixiang Primary School
It is understood that this activity is sponsored by the Federation of Literary and Art Circles of Korla City, and undertaken by the Musicians Association and Korla Lixiang Primary School. It aims to let students immerse themselves in the charm of national musical instruments, constantly feel the connotation of national musical instrument works, let children contact with national music from an early age, feel the charm of China's excellent traditional culture, and pass on national music and culture through exposure to traditional musical instruments.
Involving musical instruments
Pipa (pinyin: pí pa), the first plucked instrument, is a traditional plucked instrument in East Asia, a plucked stringed musical instrument. Made of wood or bamboo, the speaker is half-pear-shaped and has four strings on the top. It was originally made of silk thread, but now it is mostly made of steel wire, steel rope and nylon.
Guzheng (pinyin: Gǔ Zhēng), also known as Hanzheng and Qinzheng, is an ancient national musical instrument of the Han nationality and is popular all over China. It is often used for solo, duet, instrumental ensemble and accompaniment of song and dance, opera and folk art. Because of its wide range, beautiful timbre, rich playing skills and strong expressiveness, it is known as the "King of Music", also known as "Oriental Piano", and is one of the unique and important national musical instruments in China.
Guess you like
Organized by 青鸟 on 2023-11-20
2023 coincides with the 10th anniversary of the "Belt and Road" initiative, this year's "Sinan Art Appreciation" around the "Silk Road traditional music", invited the Shanghai Chinese Orchestra to join hands with Chinese and Western artists across the border, with 8 art sharing activities, focusing on the exchange of Eastern and Western music culture on the Silk Road, to show the integration and development of national instruments on the "Belt and Road".
read >>
Organized by vespa on 2023-11-13
Quiet music, sonorous sound, in the wonderful interpretation of the Chinese impression performer group, the audience enjoy the beautiful movement of music painting, and experience the charm of pipa, Zhongruan and suona together...
read >>
Organized by 陆晨 on 2023-10-16
On the evening of October 13, the opening ceremony and performance of 2023 White Crane Liang Tourism and Culture Festival were held in Fuling District of Chongqing. An octet performance of violin, cello, accordion, Cahun drum, erhu, pipa, bamboo flute and dulchen, "When Chardash Meets Horse Race" attracted the attention of the audience.
read >>
Organized by 肖毅 on 2023-09-06
Recently, the fourth performance of the 2023 music season of Zhuhai National Orchestra - "Liang Shanbo and Zhu Yingtai" He Zhanhao's works concert came to an end at Chongqing Shi Guangnan Grand Theatre. This is also the first time that the Zhuhai National Orchestra has performed in Chongqing since its establishment.
read >>
Organized by 晚荣 on 2023-08-28
In the live broadcast room, various folk music performances such as guzheng, guqin, pipa, erhu, yangqin, suona... are either melodious or passionate. More and more folk music performers are choosing online platforms to perform, which is a new way of dissemination that brings traditional folk music closer to the public and attracts more young people.
read >>