Huzhou Normal University has recently successfully restored the first batch of Ming Dynasty "Wei Shi Music" instruments in China. This achievement was jointly completed by the School of Music of Huzhou Normal University, Huzhou Key Laboratory of Sound Resource Data Mining and Intelligent Service Technology and Fuqing Shande Ming Dynasty Weishi Music Score Culture Research and Exchange Center. It is understood that the restoration of the Ming Dynasty "Wei Shi Music" instrument is still the first time in China.
The "Wei Shi Music Score" is a music score taught by Wei Hao, the fourth grandson of Wei Zhiyan, who passed on some poems and music from the Ming Dynasty to Japan during the late Ming Dynasty. Japan calls it "Wei Shi Music" or "Ming Music".
Professor Qi Mingjing, from the School of Music at Huzhou Normal University, has been studying carefully for 15 years, translating the original Gongchi score and instrumental position score of Wei's music into the current popular staff score, and attempting to restore the performance.
In order to get as close as possible to the original sound of Wei's music and reproduce the timbre of Ming Dynasty instrumental music, Professor Qi Mingjing collaborated with Li Jianyu, the inheritor of Quanzhou Southern Music Instrument Production Technology and the director of Quanzhou Southern Music Instrument Development Committee of the Southern Music Artists Association, and Du Zhiyang, the "Imperial Music Studio", to replicate a complete set of Ming Dynasty instruments used in Wei's music, including pipa, fourteenth stringed zither, moon qin, sheng, flute, xiao, qigong, and cloud gong 11 musical instruments including sandalwood, small drums, and large drums. The restored pipa this time has a deep and round tone, which is significantly different from the high-definition and bright pipa of today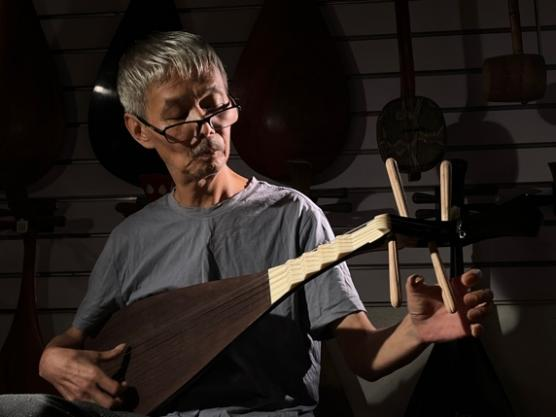 Why should we restore the "Wei Shi Music" instrument? According to Qi Mingjing, the development of Music of China is different from that of western music. Western music emphasizes the measurement and notation, as well as pitch and rhythm. However, most of the music scores passed down from ancient China only have pitch and no rhythm. For example, the guqin score needs to be played with personal colors and relies on notation. However, Wei's score had both pitch and rhythm, and it was also a composite score, which was relatively rare at that time and could reproduce the style of the Ming Dynasty. Another reason is that "Wei's music" was a school singing style influenced by Wang Yangming's "mind learning", which later became a school song. Among them, the Huzhou poet Meng Jiao's "Ode to the Wanderer" and the poet Zhang Xian's four lyrics all have music scores in Wei's music, which means there is an opportunity to recreate the music scene 400 years ago.
This achievement transformation exploration cannot be separated from the technical support of Huzhou Key Laboratory of Sound Resource Data Mining and Intelligent Service Technology. It is understood that the laboratory is established based on the School of Music of Huzhou Normal University. Through digital analysis, artificial intelligence, and other methods, it assists in the protection, presentation, and development of local traditional sound resources, creating a new pattern of interdisciplinary construction in the School of Music, and promoting the new development of China's cultural and tourism industry.
At present, these musical instruments are being exhibited at the Metaverse Music, Dance and Drama Industrial College jointly built by Wuxing District and Huzhou Normal University, and will be premiered at the Ming Music Restoration Concert jointly hosted by Huzhou Normal University and Changxing County Government in November this year. At that time, the sound of Ming Dynasty silk and bamboo will travel through the time tunnel and ring in Huzhou.