Entering the production workshop of the Northern Ethnic Musical Instrument Factory in Raoyang County, Hengshui City, Hebei Province, workers are busy polishing and assembling instruments such as pipa and erhu. These beautifully crafted and meticulously carved ethnic musical instruments are about to be shipped from here to various parts of the world, embarking on their respective artistic journeys.
The production of ethnic musical instruments in Raoyang County began in the early 1980s. At that time, retired workers from Beijing Ethnic Musical Instrument Factory returned to their hometown to establish the collective enterprise of Daguanting Town in Raoyang County - Beijing Ethnic Musical Instrument Factory Raoyang Branch, which later became the current Raoyang North Ethnic Musical Instrument Manufacturing Co., Ltd., "said Yang Junpeng, the general manager of North Ethnic Musical Instrument Manufacturing Co., Ltd.
After 40 years of development, Raoyang County now has 105 enterprises and workshops for the production and operation of ethnic musical instruments, forming a folk music industry cluster based on the "National Erhu Scientific Research and Production Base" and the "China Musical Association Yangqin Research and Development Center". The products cover more than 300 varieties of three major series: plucking, string pulling, and percussion. The annual production of various musical instruments is more than 200000, with an output value of over 500 million yuan. There are more than 3000 related practitioners, and the leading products are the series of yangqin Erhu, Guzheng, Pipa, Liuqin, Ruan, Yueqin, etc. are exported to North America, Western Europe, Southeast Asia and other countries and regions, accounting for 25% of the national production of ethnic musical instruments. Among them, Erhu accounts for 50% of the national production, and Yangqin accounts for 70% of the national production. It has become the largest production base for folk music in northern China and has been rated as the "Hometown of Chinese Ethnic Musical Instruments" by the China Musical Instrument Association.
Raoyang ethnic musical instruments are mainly handmade, from material selection, drying, embryo making, molding, painting, tuning to tuning and leaving the factory. Every process and test strictly follows traditional craftsmanship, supplemented by unique technological innovation. Raoyang ethnic musical instruments still rely heavily on handmade production today. Although this to some extent restricts production, it also allows craftsmen to put more effort into each instrument, which is conducive to cultivating and inheriting the spirit of craftsmanship that strives for excellence. "said Zhao Aimin, General Manager of Hebei Lezhiyang Musical Instrument Manufacturing Co., Ltd.
In order to encourage the better and faster development of the musical instrument industry, in recent years, Raoyang County has implemented a cultural upgrading strategy, focusing on the planning and construction of ethnic musical instrument industry clusters, and cultivating them. Further improve the infrastructure, production and living facilities, and public service facilities of the Daguanting Ethnic Musical Instrument Industrial Park, plan to build small and micro enterprise incubators, increase industrial investment, and accelerate cluster development. At the same time, the National Musical Instrument Industry Association has been established to cultivate leading enterprises in folk music. In 2019, at the Third Tourism Development Conference in Hengshui City, the erhu ensemble successfully challenged the Guinness World Record in 2024. We have created the Chinese Raoyang Farmers' Ethnic Orchestra, trained it as a normalized performance team, and gradually developed it into a comprehensive folk music industry chain that integrates "competition+composition+performance+training+tourism+manufacturing", creating a new development model of "folk music+". At the same time, we will strengthen the promotion and promotion of corporate brands such as "Moon Temple", "Music Ocean", and "Art Sea", select and declare intangible cultural heritage inheritors among folk music craftsmen, stimulate their enthusiasm for manufacturing high-quality instruments, and take the path of high-end brand development.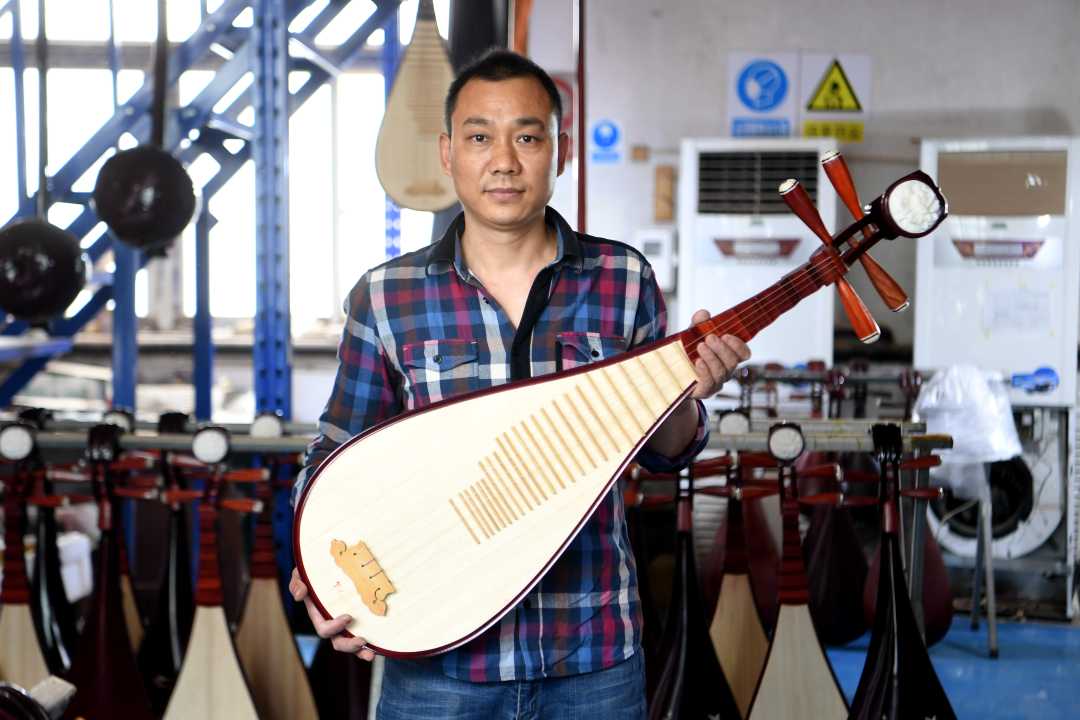 In the future, we will cultivate more folk music cultural enterprises and craftsmen, focusing on creating two highlands: folk music education and training, and folk music competitions and activities, "said Jiao Huxing, President of Raoyang County Ethnic Musical Instrument Association.