"When Chardash Meets Horse Racing" appeared at the White Crane Liang Tourism and Culture Festival
52 views · Organized by 陆晨 on 2023-10-16
On the evening of October 13, the opening ceremony and performance of 2023 White Crane Liang Tourism and Culture Festival were held in Fuling District of Chongqing. An octet performance of violin, cello, accordion, Cahun drum, erhu, pipa, bamboo flute and dulchen, "When Chardash Meets Horse Race" attracted the attention of the audience.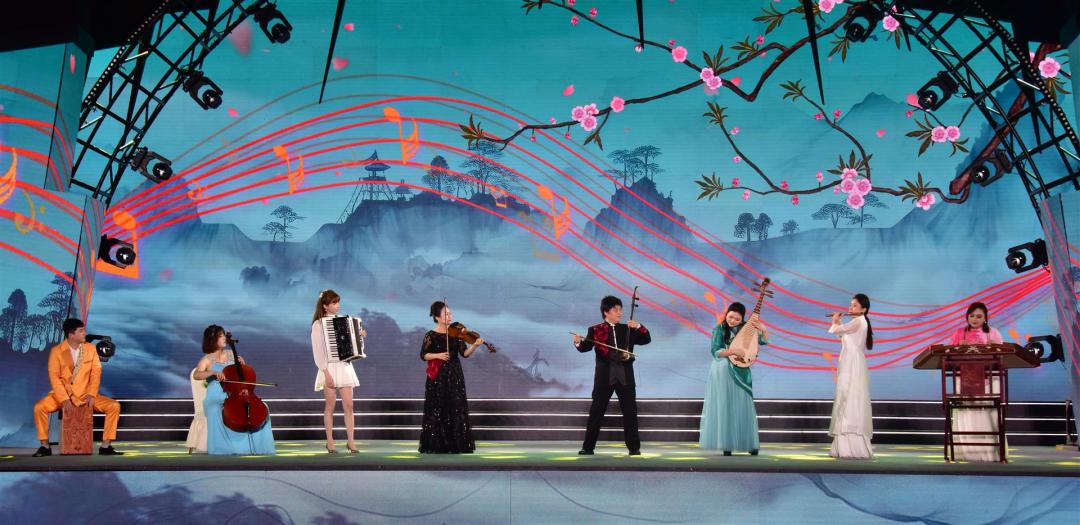 The reporter saw at the scene that the eight-piece performance created by the eight instruments on the same stage broke through the boundaries of regions and languages, and made Chinese works and foreign works an innovative integration. What's more interesting is that the performance also incorporated the "dialogue" of the two major instruments, violin and erhu, which brought a different surprise to the audience.
Chardash is one of the famous violin pieces by Italian violinist and composer Vittorio Monti, which has been adapted for solo and ensemble work on various instruments such as accordion. "Horse Racing" is a famous solo Erhu song created by Chinese contemporary erhu artist Huang Haihuai.
Guess you like
Organized by 青鸟 on 2023-11-20
2023 coincides with the 10th anniversary of the "Belt and Road" initiative, this year's "Sinan Art Appreciation" around the "Silk Road traditional music", invited the Shanghai Chinese Orchestra to join hands with Chinese and Western artists across the border, with 8 art sharing activities, focusing on the exchange of Eastern and Western music culture on the Silk Road, to show the integration and development of national instruments on the "Belt and Road".
read >>
Organized by vespa on 2023-11-13
Quiet music, sonorous sound, in the wonderful interpretation of the Chinese impression performer group, the audience enjoy the beautiful movement of music painting, and experience the charm of pipa, Zhongruan and suona together...
read >>
Organized by 肖毅 on 2023-09-06
Recently, the fourth performance of the 2023 music season of Zhuhai National Orchestra - "Liang Shanbo and Zhu Yingtai" He Zhanhao's works concert came to an end at Chongqing Shi Guangnan Grand Theatre. This is also the first time that the Zhuhai National Orchestra has performed in Chongqing since its establishment.
read >>
Organized by 晚荣 on 2023-08-28
In the live broadcast room, various folk music performances such as guzheng, guqin, pipa, erhu, yangqin, suona... are either melodious or passionate. More and more folk music performers are choosing online platforms to perform, which is a new way of dissemination that brings traditional folk music closer to the public and attracts more young people.
read >>
Organized by 碍与暧 on 2023-07-19
"The music of different peoples has different ways of expression. We can look at all types of music as a language system, and Chinese folk music is one of the dialects." Wu Man, an American pipa player and a distinguished professor at Zhejiang Conservatory of Music, said.
read >>