In order to create a strong festival atmosphere, Guandu District Culture and Tourism Bureau and Yunnan Grand Theater jointly organized the 2023 Spring Festival Benefiting-People Performance Season, "Spring Art is abundant, Free Guandu -- Free Life near the ancient town". On the evening of January 14th, Yu Yuanchun, a young lute educator and performer from Central Conservatory of Music, and his team were invited to hold a special lute concert "Four Seasons on Earth" in Yunnan Grand Theatre. The Lute Society of Yunnan Musicians Association acted as a special guest. With the attention and participation of teachers, parents and students, the concert was a great success.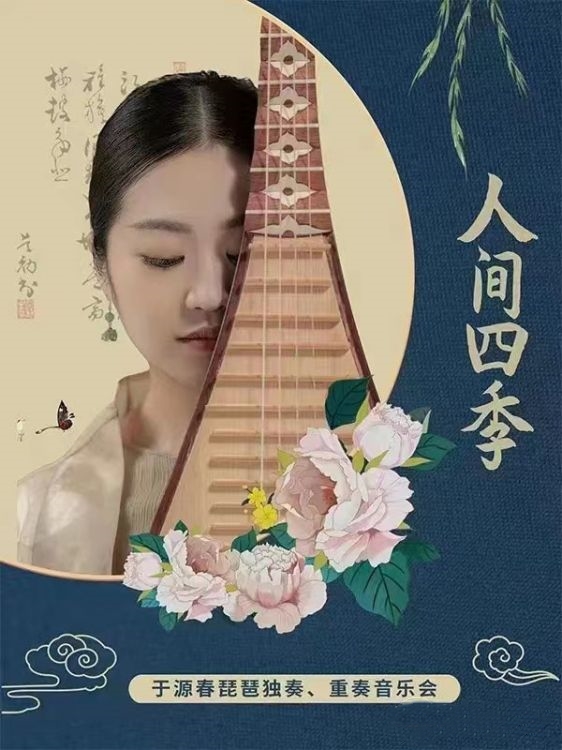 At eight o 'clock in the evening, the traditional lute song "White Snow in Spring" played by teacher Yuan-chun led teachers and students of lute from all over Yunnan opened the curtain for the concert. This song together, the fresh and smooth melody, relaxed and lively rhythm, instantly let listeners feel the beautiful scene of spring flowers. After that, Yu Yuanchun also presented the Four Seasons suite (Pipa Ensemble) featuring the humanistic feelings and natural sounds of traditional Chinese music. Tracing the origin of the pipa and describing the Pamir Plateau on the Kunlun Mountains in southern Xinjiang, "The Sun Shines on Tashkurgan" (Pipa Ensemble); The Battle of Chu and Han, a classic that recreates famous battles in history; It shows the development of traditional pipa music.
At the concert, members of Lute Society of Musicians Association of Yunnan Province Pipa played "Pendulum". Bai is a pipa ensemble of various musical styles of Yunnan ethnic groups. It was created in February 2020 by Gao Xuehong, a young composer from Yunnan Arts University. The adagio entered into the soft Dai music style and gradually transited to the Yi music style after many developments, changes and oversets. Among them, the warm atmosphere of Haicaiqiang of Yi nationality is in sharp contrast to the graceful and delicate music of Dai nationality, thus showing the relaxed, warm and direct, natural and primitive characteristics of Yunnan ethnic minorities. This work has won the bronze Award of Professional Ensemble in the Liaoyuan Cup Pipa Art Elite Competition.
Pipa has a long history. After years of development and evolution, its unique artistic charm still plays an important role in folk music and has an important influence on Chinese traditional music culture. Under the guidance of the Party's 20 Great Spirit, the concert aims to protect and inherit the pipa playing skills and promote the excellent traditional Chinese culture. This concert was strongly supported and promoted by the Lute Association of Musicians Association of Yunnan Province. Members of the Lute Association appeared in the concert as assisting guests. In addition to exchanging skills, it was also a precious opportunity for musical exchange and integration.
Artist profile
Yu Yuanchun: Young pipa player, young pipa teacher of Central Conservatory of Music, the first pipa doctor of Central Conservatory of Music, former pipa player of China National Orchestra, UNESCO special artist. Since childhood, I have been learning the piano under the tutelage of professors Zhou Xianshun, Li Guanghua, and Professor Fan Wei, PhD supervisor since the Affiliated High School, during which I have received guidance from Lin Shicheng, Liu Dehai and other masters. She has won gold and silver MEDALS in major professional competitions such as Golden Bell Award, Wenhua Award and Taipei Concerto Competition, and won the overall champion of CCTV National Instrumental Music TV Competition in 2012. He is one of the most active and important Chinese music players in China and the world.
In recent years, she has been invited as soloist or principal performer to more than 30 countries and regions, including Carnegie Hall, Lincoln Center, Kennedy Center, Berlin Philharmonic Hall and other top stage. In 2016, at the invitation of the National Center for the Performing Arts, Yu Yuanchun's pipa solo concert was held, which was highly received. He has released his personal album "Spring", his personal fever album "Pipa Player", his outdoor recording compilation "Harmony of Nature and Man", and his impromptu interpretation of Dunhuang ancient music "Mingyue Reflecting Dunhuang", which have won high praise from the music industry and the public. He is a highly praised young Chinese music player in contemporary music circles at home and abroad.