On July 24, the 2023 Music of China Little Golden Bell - National Pipa Performance Opening Ceremony Concert was held in Zhenhai District, Ningbo City. Pipa performers such as Wu Yuxia, Yang Jing, and Zhou Tao waved their bows and drew strings, accompanied by the Ningbo Symphony Orchestra, and jointly presented a wonderful and colorful artistic feast to the audience.
In recent years, Zhenhai District has continuously promoted the art of pipa. In September 2021, the Chinese Musicians'Association officially awarded Zhenhai District the title of "Hometown of Chinese Pipa", and Zhenhai District has also become the only "national character" Pipa art shrine recognized by the Chinese Musicians' Association. At the opening ceremony concert, Song Fei, Vice President of the Chinese Musicians'Association and Vice President of the National Academy of Chinese Theatre Arts, and Lin Bin, Secretary of the CPC Zhenhai District Committee and District Chief of Ningbo, jointly unveiled the "Hometown of Chinese Pipa".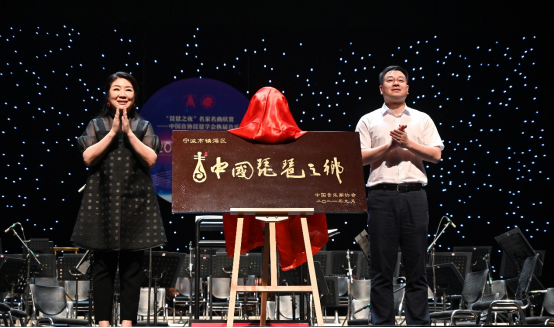 The entire concert was passionate and exciting, bringing together a large number of the highest level pipa performers in the country. The first symphonic version of the pipa concerto "Sparking the prairie" was performed by Wu Yuxia, with the pipa lead as the "lead", depicting the unstoppable faith and vitality like flames. Yang Tingting's pipa concerto "Pipa Xing" and Jiang Yang's pipa concerto "Late Autumn" are full of emotion and shock, while Zhao Cong's pipa music "Flying on the Silk Road" is elegant and dynamic.
It is reported that the 2023 Music of China Little Golden Bell - National Pipa Performance will be held in Zhenhai District from July 23 to 29, and 215 players from all over the country will give 18 wonderful performances to the audience.
During the performance, Zhenhai District will also hold a series of activities such as the 2023 National Pipa Key Teachers (including the New Literature and Art Group) Training Class, Zither Sea Tour - Academic conference in memory of Mr. Liu Dehai, which will focus on the latest achievements of China's Pipa education and performance, create a strong artistic atmosphere for Pipa practitioners and musicians, promote elegant art to reach the masses of citizens, and continue to enhance the reputation of "China's Pipa Hometown".