"The glittering sunlit square is good, and the rain in the sky is also strange..." Accompanied by a dulcimer and string orchestra, the soprano sang Su Shi's masterpiece in Chinese. This is a "Chinese memory" theme concert in Belgium, composed, played and sung by Belgian musicians. The reporter interviewed the Belgian pianist and composer JohanFamaey, because his wife is from Wuhan, he fell in love with this "second hometown"; He is fascinated by Chinese music, poetry and mythology, and the exchange of Chinese and Western music has become his wish.
In September 2022, the "Chinese Memory" Mid-Autumn Festival concert was held at the Augustinian Music Center in Antwerp, Belgium.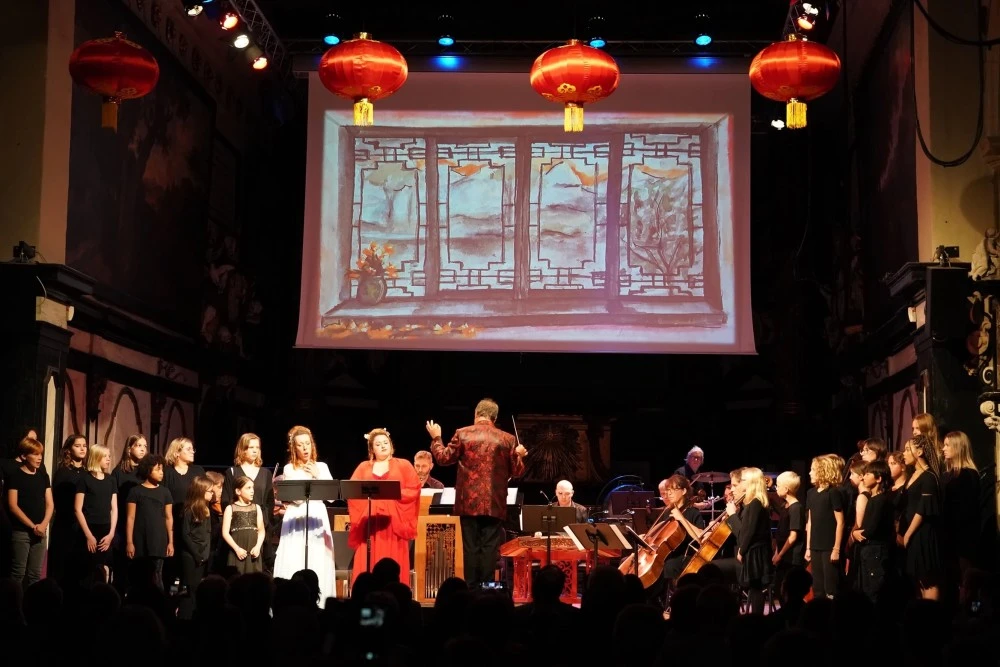 He composed music for Tang and Song poems, which was his "Chinese memory".
Among Zuohan's personal websites, "Chinese memory" stands out. In 2011, 2021 and 2022, he held several "Chinese Memory" themed concerts in Belgium, composed music for 10 Chinese poems, played the dulcimer himself and collaborated with a string orchestra, while two Belgian sopranos sang in Chinese.
Zuohan recalled that he went to Qingdao, China, from 2005 to 2009, and began teaching chamber music and the history of Western music at Qingdao University and Qingdao University of Science and Technology in 2007. As the only professional organist in Qingdao at that time, he cooperated with Qingdao Grand Theatre. "I naturally developed an interest in Chinese music, including traditional Chinese music, ethnic music, and Peking Opera music, and I can still find these elements in my compositions today."
Immersed in it, Zuo Han found many similarities between Chinese and Western music. As a pianist, he fell in love with the dulcimer, both of which are stringed instruments that can be played with both hardness and softness. He also learned to play xiao and cucurbit flute. As a composer, he has a keen eye for the musicality in Chinese poetry. Zuo Han's wife is from Wuhan. "She introduced me to Chinese poetry, and I was surprised that all Chinese people know so much about them. Most importantly, Tang and Song poems are so beautiful that their translation into music is a match made in heaven ".
From the vast sea of Chinese poetry, Zuo Han chose ten pieces to compose, including Meng Haoran's "Spring Dawn", Li Yu's "Black Night Crow", "Yu Beauty", "The Wave of Sand", "Meet each other Happy", Su Shi's "Night in Spring", "Settling Storm", "Rain on the Lake After a Sunny Day", and Li Qingzhao's "Like a Dream" and "The Sound of Slow". The renditions are described as "the fashionable music of ancient Chinese poetry, which takes the audience into a poetic and picturesque world, a magical dream full of pathos".
Playing the dulcimer in Europe and listening to the audience sing "The Same Song"
In the autumn of 2011, two years after leaving China and returning to Belgium, Zuohan finally had the opportunity to hold a "Chinese Memory" themed concert in his hometown. "The premiere attracted a lot of attention. It was like a 'bridge' between Chinese and Western music and made the audience feel great," Zuo said. At the same time, they also found the charm of Chinese poetry." Unfortunately, the dulcimer part of the music is played by the Hungarian dulcimer, not the Chinese dulcimer. However, this performance has helped Zuohan establish a deep friendship with the Chinese Embassy in Belgium.
In 2021 and 2022, Zuohan finally had the opportunity to hold the "Chinese Memory" theme concert again, and had closer cooperation with the Chinese Embassy in Belgium in spreading Chinese culture. This time, he can finally play the real Chinese dulcimer, let people from the music directly to China. For many in the audience, it was the first time to hear the wonderful instruments from China and "they were very surprised and curious".
"Dulcimer is still little known in Europe, and I want to change that." Zuo Han took his good friend Cheng Yu, a well-known pipa and guqin player in the UK, as an example. "In London, Cheng Yu successfully introduced the guqin to the British people, and now there are many London students who can play the guqin. I thought perhaps the dulcimer could do the same."
In fact, during a recent tour in Paris, Malta and Luxembourg, Mr. Zuohan played "The Same Song," which is familiar to Chinese, on the dulcimer at the end of a concert. "When I play the dulcimer and the audience sings" The Same Song, "it feels so warm."
The next inspiration was the Yangtze River
Zuo Han and China's fate, in music, but also in life. "My wife is from Wuhan, and I have been going to Wuhan every year since 2003 to visit our family." In Zuo Han's heart, "Wuhan is my second hometown, going to Wuhan is like going home." He loved the city, his family and the skyline.
His love for Wuhan has also influenced Zuo Han's music creation. In his opinion, "There is something about Chinese culture and Chinese music that has a strong connection to nature, and I like that very much. When I was in Wuhan, I noticed how much Wuhan people valued the Yangtze River and the East Lake. Su Shi describes the beautiful scenery of the West Lake in the "bright and sunny water, the empty mountains and the rain are also strange", which makes Zuo Han think of the enchanting beauty of the East Lake, and based on this, he created. "My next creative inspiration is the Yangtze River," he said.
Zuo Han's creation of Chinese themes is far from over. When he was in Qingdao, he worked with a dulcimer player and learned that the other had composed a work based on the myth of Nu Wa, which sparked Zuo Han's interest in Chinese mythology. "I want to tell the story of Chang 'e and Houyi through a musical or an opera. I have created music around this idea and hope to continue it and let people around the world know the myth."