"Gugak sounds so good." "This is equal love." On the screen, a young couple sat in front of the dulcimer, playing "Blue and white Porcelain" and "Super Mario" and other popular songs with four hands. In the four months since Douyin started its @dulcimer CP account, Ye and Zhou's thrice weekly livestreams have attracted more than 100,000 viewers. The likes and rewards from netizens not only encouraged them, but also enabled them to find a new path to inherit the dulcimer.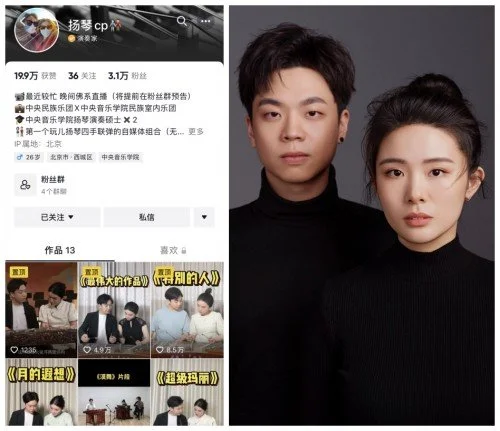 Ye Yuzhao and Zhou Tingting were born after 1995, one in Hong Kong and the other in Guangdong province. Ye Yuzhao began to contact the dulcimer at the age of 9, and successively studied in Malaysia, Hong Kong and Beijing. In 2015, he was admitted to the Central Conservatory of Music, where he studied for seven years. Zhou Tingting began to learn the dulcimer at the age of 4. Later, she was admitted to the dulcimer major of the Central Conservatory of Music from the Shenzhen Art School, and met Ye Yuzhao during her 7-year undergraduate and postgraduate studies.
They have performed in many countries and joined the Chinese National Orchestra and the Chinese Chamber Orchestra of the Central Conservatory of Music after graduation. However, due to the epidemic, their offline performances were affected to a certain degree, so they decided to form "Dulcimer cp", which released short videos of dulcimer performance and broadcast live performances, so as to better spread dulcimer culture.
Since its establishment in June this year, "Dulcimer cp" has posted only a dozen videos, but they have been liked by 199,000 netizens and viewed more than 3 million times. In the live studio, they play as a duo or invite other musical instrument performers to perform together, constantly narrowing the distance between classical and elegant art and the general public through new forms of communication, so that the melodious sound of Yangqin has more "friends".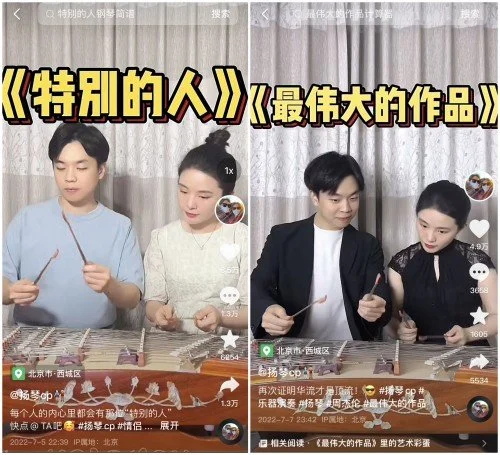 At the beginning, moving the dulcimer performance from offline to online, Ye Yuzhao and Zhou Tingting are not very comfortable. "We used to play in concert halls, so it was more ceremonial. When you go online, you need to find out how to arrange the music and interact with the audience." Ye Yuzhao said that the first broadcast because of lack of experience, prepared for the dulcimer teaching content, at that time only five people watched.
In order to attract more audience, they constantly try new content and form of performance, "instead of relatively boring teaching video to play. "I will play traditional dulcimer songs, as well as popular songs such as Blue and White Porcelain and Special People." A live broadcast in early July gained more than 3,000 followers, which gave them great confidence. Later, they tried to bring traditional folk music with The Times, and gradually gained 20,000 followers.
In history, the dulcimer has become one of the traditional national Musical Instruments since it came into China from Persia in the late Ming Dynasty after nearly 400 years of spread and evolution. In many local operas, the dulcimer is an indispensable accompaniment. However, the inheritance of the dulcimer has not been easy. It is not as distinctive and portable as Erhu and dizi. Although it is quick to learn, it is difficult to master.
Through live broadcasting, Ye Yuzhao and Zhou Tingting found a new way to bring the dulcimer to the masses. Zhou Tingting felt that the non-mainstream way of playing the "four hands" is also one of the reasons for the fast circle. "The mobile broadcast screen is so big, the four-hand joint missile not only solves the space problem, but also makes our tacit advantage play out, which is more attractive." Many fans to their special broadcast room to listen to the performance, there are parents and beginners to consult dulcimer learning. This led them to believe that the dulcimer was a niche instrument with many fans.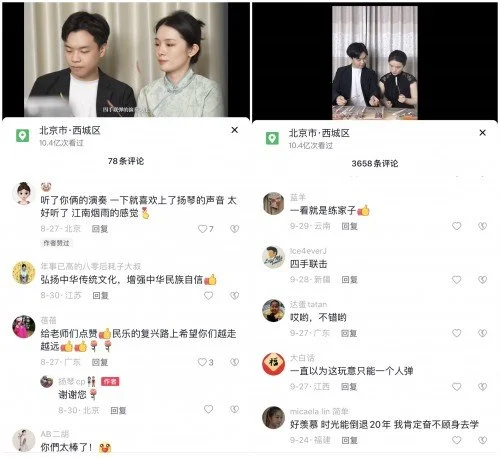 During the live broadcast, some netizens will reward them for their wonderful performances. Zhou said that audiences' support for tipping out of appreciation is a big incentive for performers, and she hopes that in the future, professional ability and tipping income will be matched to make cultural inheritance more sustainable.
At the same time, many people around "Dulcimer cp" also joined the livestream. On the 40th International Musical Instrument Day in June this year, Liu Yuening, a professor from the Central Conservatory of Music, gave her first performance with the Dulcimer cp, which was praised and rewarded by more than 200,000 viewers. Live broadcasting, a new way of communication, has been recognized by Liu Yuening and more people.
"The dulcimer scene is small and everyone knows each other or knows each other by name, and livestreaming takes those of us out of it." The niche dulcimer has found more friends online than in an offline performance with hundreds of audiences. Talking about the future, Ye Yuzhao and Zhou Tingting said that they will continue to explore the balance between professional and down-to-earth dulcimer in the broadcasting room, so that the dulcimer can be understood by more people at the same time, sowing the seeds of dulcimer culture inheritance.