Pipa is one of the most famous musical instruments in China, and it has a history of more than 2,000 years. Let's take a look at what are the top ten famous pieces of Pipa?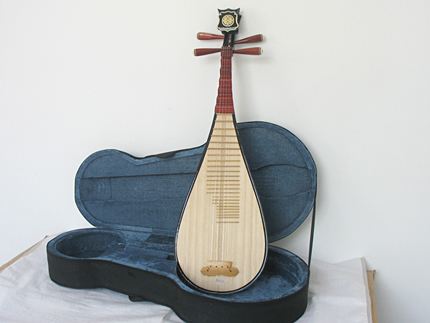 "Stop Song"
"Sai Shang Song" is a large set of traditional pipa texts. The music expresses sorrow and grief by describing Wang Zhaojun's longing for his motherland.
"House of Flying Daggers"
"House of Flying Daggers" is a famous large-scale pipa piece, which can be called a classic among the pieces. The magnificence and splendor of the content of the music and the majestic and peculiar style are rare in classical music. The decisive battle of Gaixia was a famous battle in Chinese history. The pipa song "House of Flying Daggers" uses music to express the fierce battle of this ancient war, showing the world a vivid and moving picture of the ancient battlefield.
"Underlord"
"The Overlord Removing Armor" is a well-known traditional pipa martial arts. This piece is based on the same material as "House of Flying Daggers", which also describes the battle of Gaixia. The protagonist is Xiang Yu, so the music is dull and tragic.
"Big Waves Washing the Sand"
"Big Waves Washing the Sand" is a pipa solo piece composed by Hua Yanjun.
"Zhaojun Out of the Forbidden City"
The pipa solo "Zhaojun Out of the Forbidden City" was passed down by Hua Yanjun. The music expresses the author's infinite emotion towards this historical event by depicting the emotional changes of Zhaojun when he left the fortress.
"Sunny Spring and White Snow"
"Yangchun Baixue", also known as "Yangchun Ancient Song", referred to as "Yangchun", is an excellent ancient pipa song widely circulated. The simple and rich musical language expresses people's spirit of being aggressive, optimistic, and full of infinite feelings for nature.
"Prairie Sisters"
It shows the noble style and brave spirit of the new Chinese children who love the collective and are not afraid of the storm.
"Hai Qing Takes Swans"
It is said that "Hai Qing Na Swan" is the earliest pipa song known today.
"Yi Dance"
"Dance of the Yi Nationality" is an extremely lyrical piece of music with a strong atmosphere of life. It uses music to describe the joyful singing and dancing around the bonfire in the evening by men, women and children.
"Torch Night"
"The Night of the Torch Festival" is written in the way of music. On the night of the Torch Festival, people of ethnic minorities gather around the bonfire and dance enthusiastically and cheerfully. The music is sometimes melodious, sometimes intense.